WMTW 020: Danny Iny on trust and building an audience
Podcast: Play in new window | Download
Subscribe: RSS
Updated on January 4th, 2017
Click to tweet this podcast >>

"The key to making web marketing effective is that you need to earn people's trust before you need it." Danny Iny (Tweet this)
Introducing Danny Iny
Danny Iny (@DannyIny), a.k.a. the "Freddy Krueger of Blogging", is the proud founder of Firepole Marketing. He's also the author of the Amazon best-selling book Engagement from Scratch!, the Naked Marketing Manifesto, and the Audience Business Masterclass (among other things). Danny has maintained a passionate commitment to learning and transparency, freely sharing lessons learned from great successes, major challenges, and even from his personal life (including lessons learned from his wedding to the most wonderful woman in the world).
Show Notes
Who is Firepole Marketing?
It's a business education company teaching small business owners and entrepreneurs how to do marketing online.
"If nobody knows you, or likes you or trusts you it's very difficult to sell anything."
10 people – half in Montreal, half across the globe run rate of about $1.5M.
Distributed workforce lessons
Decided they were a local company.
Feels that it is easier to start a business locally then progress to be global. Has just signed up to office space.
More than 1 or 2 days a week having face time.
Place to house equipment so the remote collaboration can work effectively.
Marketing Philosophy:
"It's all about the audience."
"The key to making [web marketing] effective is that you need to earn people's trust before you need it."
What has worked – Webinars:
People becoming more reluctant to join up to webinars. Live sign ups from the webinars were dropping.
Reduced the pressure, added time.
Treat your customers like adults rather than children.
Sold just as many over the longer time than the shorter.
JV partners for launching products:
Finds partners through existing relationships and referrals only.
In it for the long haul.
What hasn't worked – live events:
Had interest initially but after initial burst, hardly sold any tickets.
A risk of an engaged audience – if you have a large audience that loves you, there will be a segment of people who will always say yes.
It's not necessarily an indicator of broader commitment outside of your audience.
Strategic Miscalculation:
The mistakes you don't recover from are those where you lose your integrity.
Sometimes you need to try things and if you want to be a leader things will go wrong!
He calls a big bet – 3-5% of gross revenue and tries to do this 3-5 times a year.
Experimented with webinar technology and 10 out of 15 webinars broke – lost revenue, staff time, expense of the technology.
If you were starting out, what would you do differently?
Get clear on the problem you solve.
Build a simple landing page with a valuable piece of content.
Connect with communities and start participating – leave valuable comments, get noticed in the community.
Increase contributions – guest blog post.
Publishing in these communities.
What's coming up for you?
Advertising – trying to learn the skill.
There are potentially huge numbers, but it is a very different potential market in terms of engagement.
Looking at Facebook initially.
Who do you learn from:
Randy Komisar
The Monk & The Riddle
Getting To Plan B
Final Thought:
"Get out there and do stuff!"
Connect with Danny:
Did you like this podcast?
If you liked this podcast, please click to tweet this show >>
Subscribe
Subscribe to Web Marketing That Works via:
Bonus 33 Free Templates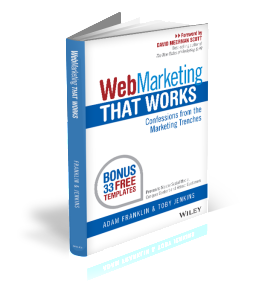 Download the 33 free templates (11.2 MB – zip file) from our new book.
Read the free, 28 page sample chapter (948 KB – PDF)
Or order the book online: Web Marketing That Works: Confessions from the Marketing Trenches (Wiley 2014).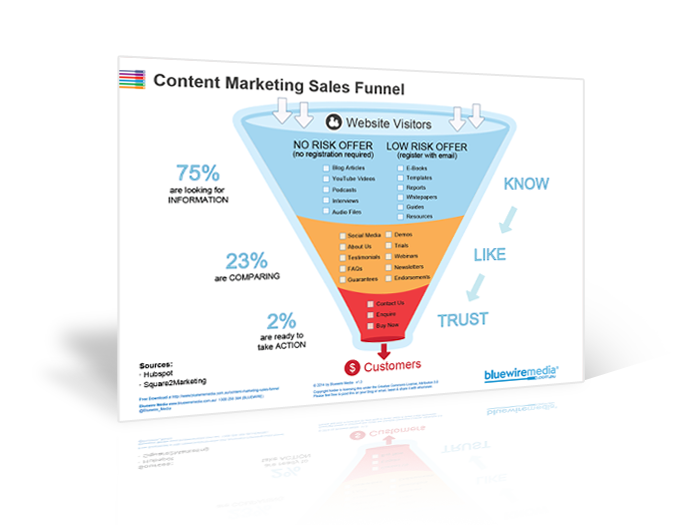 Content Marketing Sales Funnel
Your content marketing sales funnel is all about getting people to know, like and trust you by nurturing them with the right information at the right time.