WMTW 043: Sam McIntosh, Founder of Stab Magazine [podcast]
Podcast: Play in new window | Download
Subscribe: RSS
Updated on February 12th, 2015
Sam McIntosh, founder of Stab Magazine, talks to me about starting a magazine from scratch, taking it digital and how the audience must come first every time. He shares details on how he builds partnerships to generate huge website traffic and social media shares.
Show Notes:
What worked well
Discover how the website and magazine worked together.
If you get the right news, you will get the right traffic.
Wrote a book "How to surf" with Taj Burrow. It became a best selling book, they used that cash as a kickstarter and Stab Magazine was eventually born.
Hates  traditional "Old School" way of media production.
Stories compared to 10 years ago are now more vital and less time sensitive.
Give value to the people who invested on the print copy.
A website is expensive, but it will be the best money you will invest.
"Start everything with your reader."
Be a daily destination to your readers.
Engage your readers as much as possible.
Get your readers to become loyal – their biggest reader group comes back to the site 200+ times a month.
They have people all over the world that shoot and write their content.
Ultimate goal is getting your brand "out" there
Stab started as a print magazine, eventually going online just 3 years ago
Print content is the same as digital content
Do not put online what the print edition has
Having a point of view will build relationship with readers
Get inside tracks and report first for increase traffic
Partnered with RedBull on shooting "viral" videos, helping the content to be "out and viral".
Create your own content and news at the same time.
Sam is not a believer of twitter for Stab. He prefers Instagram as it is more visual and suits their content.
Has grown 1k+ followers in Instagram everyday
People mentioned:
Watch video of "The Right"
Connect with Sam
Did you like this podcast?
If you liked this podcast, please click to tweet this show >>
Subscribe
We would love you to subscribe to Web Marketing That Works and please leave your honest reviews via:
Stitcher radio
iTunes
SoundCloud
Bonus 33 Free Templates
Download the 33 free templates (11.2 MB – zip file) from our new book.
Or order the book online: Web Marketing That Works: Confessions from the Marketing Trenches (Wiley 2014).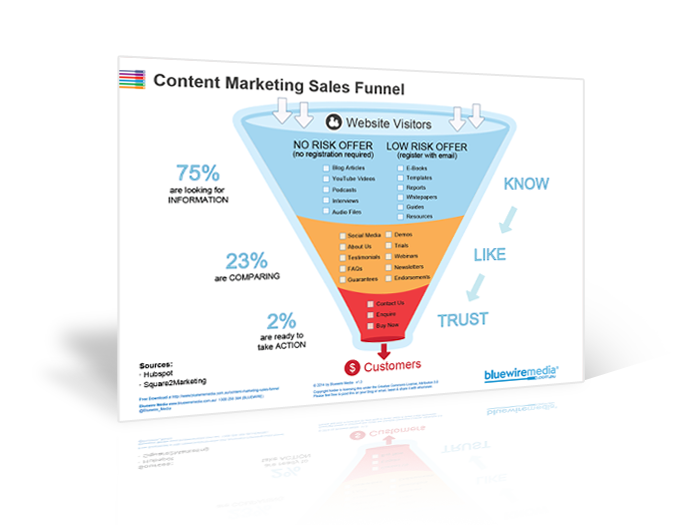 Content Marketing Sales Funnel
Your content marketing sales funnel is all about getting people to know, like and trust you by nurturing them with the right information at the right time.