5 Proven Types Of Lead Magnets To Bribe Your Visitors
This is a guest post – Matteo Duò is Content Strategist at Codeable, the #1 outsourcing service for WordPress providing top-notch WordPress experts to small businesses, agencies, and bloggers. Wanna know more about WordPress and entrepreneurship? Check out the Codeable blog.
Welcome Matteo…
No matter how much you know about content marketing, strategy, copywriting, and the like, at least once in your lifetime you've encountered the "Content is King" mantra. Why the heck have these three words been iterated over and over again?
If you want the short answer, it's because those words are true, fundamentally true in their meaning, no matter which market you're working in. "Content" is the most versatile yet effective element in your control to convey your business value. There's nothing like it.
Content is what everyone, both B2B and B2C companies, is investing in. Specifically, in 2015, 32% of total marketing budgets has been towards content (up 7% from 2014). And one of the most valuable channels to have your best content up and running is your email list, since email has an average ROI of $38 for each $1 spent.
With that said, it should be a no-brainer to pick your number one goal: build up and grow your email list.  
How to tickle your visitors' interest and collect their email address
When talking about growing your email list, you should start with the "why" question because people don't share their email address so easily, they need to get something back from you first. That's why you should try to undercover what types of information and content your visitors find interesting and enjoy, then act accordingly to pack it in a suitable format.
What can you give them in exchange for their email address? That's the key question you should find an answer to. Is it market research? A list of quick tips and tricks? A cool infographic? Look at your stats to gather your data and go through your top blog posts, and most commented ones, to find ideas on what topics and type of content are performing well.
Now it's time to craft that information into a single piece of content you're going to offer for free to them.
Before we talk about the type of lead magnets at your disposal, here are 6 of the most effective tools for delivering your lead magnets to visitors…
6 Effective Tools to Deliver Your Lead Magnets
Setting up a lead magnet starts by creating a juicy piece of content to give your subscribers for free, but it's not the only thing you should consider. Since users don't share their email address so easily, you should run tests to understand which tool and type of content better work for your audience.
Let's start by focusing on tools to collect email addresses:
Pop-ups

Slide-ins

Exit intent pop-ups

Lightboxes

Ribbons and Menu bars

Landing pages
Pop-ups
Popups are dialog windows with appealing graphic elements that are shown to visitors on a website. Even if many designers think popups negatively impact UX, numbers prove they are effective when we're talking about collecting emails.
Slide-ins
If you think popups are too aggressive, you can try slide-ins instead. As their name suggests, slide-ins are windows that usually appear in a less intrusive way (like the lower right corner of the screen) when, for example, a visitor scrolls a pre-defined percentage of a page.
Exit intent pop-ups
Another tool you can leverage to collect emails is a different type of pop-up called exit intent pop-ups. What are they? They are pop-ups that aren't typically shown while browsing your website, and they get triggered the very moment your visitors move their mouse to leave the page and… bam, they get fired on the screen.
Lightboxes
Do you know when you visit a website, and get an image showing up while all the page's background dims out? Well, my friend, that's a lightbox. This way of showing a visual element, whether static or dynamic, is also an excellent way to collect email addresses via a nice form or a call to action button.
Ribbons and Menu bars
With tools like these, you're showing a horizontal bar on the top (or footer) of your website that will always be shown, even when the user scrolls the page​. You can use them to drive visitors to a landing page (via an appealing call to action button) or directly add a form for them to subscribe.
Landing pages
Landing pages should be the core of any business owner's lead generation strategy. In short, landing pages are single pages that are aimed at one pre-defined goal, with specific copy and visual elements crafted to convert visitors towards a desired action (in this case, subscribe to your email list), while collecting relevant information about them.
To better understand how landing pages are crucial to a business, you just need to know that 48% of marketers build a new landing page for each marketing campaign. If you're on WordPress, have a designer create one for you to increase the number of visitors converting into subscribers.
Top 5 Content Formats To Use As Lead Magnets
Once you've put in place the tools to get your visitors' email address, you should then create specific types of content and formats, able to convey valuable information, that you're giving away for free to your visitors in exchange for their email address. These are your lead magnets.
Let's see the most used type of lead magnet formats;
Whitepapers
A whitepaper is an in-depth document on a topic such as a report or industry analysis. There are no topic or length constraints, but a whitepaper should always be available as a PDF file, present documented information and data, all written in an authoritative and professional style.
If you want to start with a whitepaper, be sure to have read of Gordan Graham's tips.
Ebooks
As you might already be familiar with them, ebooks are digital books that you can enjoy on your tablet, Kindle or laptop. What's important to understand is how perfectly they work as freebies on a website.
Ebooks vary from 10 to 50+ pages, are available as PDF or EPUB files and range from specific guides, in-depth analysis, and commentary on topics related to your niche. The quickest way to have one is to create a PDF version of your most read blog post: you copy-paste it in a new Google Doc, address the formatting issues, and download it as a PDF file. It takes you around 15 minutes tops.
Note: if you're wondering why you should do that, it's easily said: as a PDF file readers perceive it as something that has value. Also, it's a convenient format, since they can send it to their Kindle or iPad and read, for example, while they're commuting. If you want to dig deeper into creating your next ebook, Matthew Guay at Zapier has a great guide for you.
Checklists
Another effective way to bribe your visitors is to deliver a checklist – a list of actionable tips and actions they should perform to achieve their goals. Again, start with what you already have, like a blog post, and make a list of it with all the steps or things they need to go through and put those elements in a Google Doc, add some nice graphic elements, and you're good to go.
Cheat sheets
Similarly to checklists, cheat sheets are a smart type of content people are always interested in because, at the end of the day, we're always looking for shortcuts. So as you do for checklists, same applies to crafting a cheat sheet: make a long list of notes, insights, useful resources on a topic relevant to your audience and you're done. Need some inspiration for that? Check some out at Cheatography.
Infographics
Visual elements work great, but infographics are golden because they tend to go viral and have a high chance to get you incoming links (which is good for SEO). There are plenty of services that enable you to create stunning infographics: Visual.ly, infogr.am, Piktochart, are just 3 of them, but they all allow you to have a unique infographic. When you're ready to take your infographic to the next level, check Neil Patel's advice.
Wrapping things up
There shouldn't be any doubts about how valuable your email list is. Joe Pulizzi, Founder of Content Marketing Institute, says:

"If I have one regret as a business owner, it's not focusing on building our email list earlier in the process."
Email subscribers are your most valuable asset because, not only can they help you increase your monthly visits on your website, but they're also social promoters and advocates of your brand.
These lead magnet options will help you rapidly grow your email list, and your business.
About Matteo
Matteo Duò is Content Strategist at Codeable, the #1 outsourcing service for WordPress providing top-notch WordPress experts to small businesses, agencies, and bloggers. Wanna know more about WordPress and entrepreneurship? Check out the Codeable blog.
Bonus 33 Free Templates
Download the 33 free templates from Toby and Adam's book.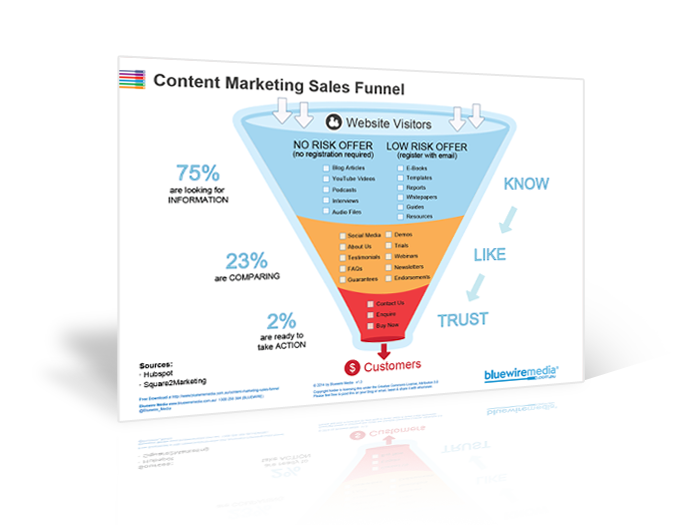 Content Marketing Sales Funnel
Your content marketing sales funnel is all about getting people to know, like and trust you by nurturing them with the right information at the right time.