How To Build Your Personal Brand In 8 Specific Steps
Updated on May 2nd, 2016
According to a survey, less than 15% of people have a defined personal brand and even fewer live their personal brand at work consistently.
Ever wondered why some people have the job of their dreams while others complain about work all day?
People with jobs they love often spend time building their personal brands (whether they realize it or not).
Think about the people you admire. Chances are they are well known in their industry. They have an audience. They have people that look to them for advice. And they probably own a business or have a great job.
You can have the same situation in your life. It takes work, but it also takes the right steps.
Earlier this year, I wrote a 30,000+-word guide on personal branding with Neil Patel: The Complete Guide To Building Your Personal Brand.
That guide is a complete outline of the steps you can take to build your personal brand. What follows are some highlights from the guide including a few extras.
1. Create Your Personal Brand Vision
According to a study, only 13% of people around the world are engaged at work. One of the reasons has to be that many people aimlessly take whatever job they can get and they get stuck in that job.
That's why it's important to figure out what you want from your professional life.
The number one job of a CEO is to communicate the vision to the employees and to anyone involved in the organisation. You are the CEO of your personal brand. It's your job to create a vision for your own future.
This gives you a clear understanding of where you want to be in 5, 10 or 50 years from now. Once you have that understanding, you can work backwards to create the steps necessary to reach the ultimate goal.
List your personal values. Everybody has a priority list of things that mean the most. To some, family ranks highest on the list. To others, personal job satisfaction might be higher.
List your passions. You know what you enjoy doing. Don't worry about being able to make money with a passion now. That comes later. The things you enjoy the most are the things you care about most. You're likely to follow through with them even when things are tough. You're likely to work on them even when you're not getting paid.
Look at the industries that make up your passions. Find the influencers and success stories in those industries. Identify the positions they hold. From these positions, create the vision for your future. You might seek to be in the same position as someone in one of the industries or maybe there is some kind of hybrid position.
Once you have your vision in mind, run it by this checklist:
Can you stick to your personal values in this position? If yes, continue.
Does the position allow you to follow your passion? Is yes, continue.
Can the skills required be acquired? If yes, you have your vision.
2. Define Your Target Audience
You can't please everybody.
The business world is littered with failed ventures that tried to be everything to everyone. The real way to succeed is to start with a niche product for a niche audience.
Let's say you want to create a video for your new iPhone game. Would you hire a jack-of-all-trades videographer or would you hire the videographer that focuses only on iPhone game promo videos?
You would take the specialist every time.
In the last step you created your brand vision. The next step is to determine the exact person you're targeting as you climb the ladder to reach your ultimate career goal. Create a complete profile of the person that will hire you or that will pay you for a product or service. Give them a name. Find a photo to use of that person so you have a visual of them.
When you know the exact person you are targeting you can give them exactly what they want so they hire you. And a cool side effect of this process is that you'll be more appealing to more people because your targeted efforts will stand out amongst everyone else that tries to be everything to everyone.
Use this guide from Greg Ciotti for building your audience profile.
3. Build Your Online Social Profiles (Especially LinkedIn)
iJustine built a career out of her social media efforts. She built the audience and found ways to build a great life from that.
It's difficult to identify the most important social media websites for professionals because it varies by industry and by the type of content you enjoy creating the most.
If you enjoy writing, creating a blog and building a Twitter audience might be the best. If you like video, YouTube and Facebook might be your best bets. If you like creating imagery, Pinterest and Facebook might be the best.
However, if you're looking for job and career opportunities, LinkedIn is the best social media website. Join LinkedIn. Fill out every item that LinkedIn recommends for your profile including videos, projects and more. Then make connections. Connect with friends and family. Connect with current and previous co-workers and colleagues. As you build connections, start connecting with influencers that become your second-level connections.
Endorse your connections and give them recommendations. Social media is very much about paying it forward. The more love you give now the more you'll receive in the future. This is a good rule for whatever social media site you use whether it's Twitter, Facebook, Pinterest or whatever. Pay it forward and you'll build your status on those networks.
4. Create A LinkedIn Group To Become An Authority In Your Industry
You're not done when you've made a bunch of connections and other items on LinkedIn. A strategy that is almost a secret right now is to build your own professional LinkedIn Group.
Lewis Howes started a LinkedIn Group. He became a respected leader in the industry and was eventually able to branch out to a number of different business ventures.
I've done this with Marketing Leaders Of Australia. I've made connections with influencers in the marketing world and have asked them to join the group. I share articles. I start conversations. I send direct messages to people asking them to comment on hot industry topics. The content builds over time and the group becomes influential in the industry. As the owner of that group, you become an industry influencer, which is great for getting career opportunities.
Create a group for your industry. Share the best articles, videos and other content. Start conversations about hot industry trends and topics. Put in the effort to reach out to people to get their input. That content will attract more high quality members.
5. Write High Quality Guest Posts
Guest posting is not dead. In fact, there is opportunity now for people like you to create guest posts to build your personal brand.
Find high quality and respected websites in your industry that accept guest posts. Use Topsy to identify these sites. Look at the most popular articles on each website. Articles with lots of social shares and comments are popular. From this research you'll see topics that readers are interested in and types of articles readers like to read.
Another tool is Buzzsumo. Search for a topic or for a competitor. You can see the content that is most popular and from there determine what you should be writing about when you guest posts on top sites in your industry.
Create 3-5 titles for posts. Reach out to the website with your ideas. Keep your email short and to the point. If you've done a great job with your title research they will be craving one of those posts. Use this checklist for creating amazing blog posts.
Once you get one guest article published, use that to your advantage. You can reach out to the next website by saying, "I recently contributed to [big website] on [big topic]. I would like to expand on that topic on [new website] with these ideas…"
Stick with guest blogging. It can take six months until you start seeing results, but your career path is a long-term endeavor.
6. Find Interview Opportunities
Signup for HARO right now. You'll get regular emails with people in the media looking for experts to interview. Don't worry if you're only starting out. Every time a media person is looking for a comment or interview in your field, respond to their query.
Some queries are only looking for quick, one or two-sentence quotes to use in a story. Others are looking for audio or even video interviews. They are all good opportunities. You might only get low-level interviews at first, but with each interview you can work you way up the chain. Use previous interviews to explain your growing influence in the industry.
Look for podcasts in your industry on Stitcher and iTunes. Tell them your story. Share your quick thoughts on a hot industry topic. Ask them what topics they want to discuss then prepare your thoughts. This will make you appealing and they'll want to interview you.
Finally, go back to the industry blogs you looked at earlier for guest blogging. Identify blogs that interview industry influencers. Reach out to these blogs to see if they would accept you as an interviewee. If they say no, ask them why and ask them what you would need to do to be accepted. Then do those things and come back to them.
7. Create Webinars With Industry Influencers
When you're growing your personal brand there will always be people in your industry with higher influence than you. But you can use this to your advantage. Seek influencers out and put together webinars that you can co-host together.
Identify about 3 to 5 industry influencers. Then look at industry webinars. Top companies often have them along with top industry websites. Look for the webinars with the most shares, comments, etc. From there, brainstorm a title that is new, but that touches on a popular industry topic.
Reach out to an influencer and present your idea for the webinar. Make it easy for them to contribute to building the outline. Take their email input and turn it into an official outline or script. Then put together all the necessary technology for the webinar, which could be a Google+ Hangout.
When the webinar is ready to go, promote it to your audience, but more importantly, have the influencer and your co-host promote it to their established audience.
You might have to do more work, but you'll be expanding your personal brand as you gain more exposure and added credibility by associating with an industry influencer.
8. Be Yourself Because Everyone Else Is Taken
Much of what we've done in the steps above is to look at what's popular. By doing this you see what people are interested in, but you don't want to copy those things. You want to take popular topics and add a unique perspective on them. You want to bring your own voice to the discussion and to your industry.
The most influential people in the world are usually known for a few personality traits. Sometimes these traits might be initially perceived as flaws. But influencers embrace their flaws. If they have a high-pitched voice they embrace it and use it to stand out. If they are honest-to-a-fault, they use that to make an impact in the industry.
Embrace the things that make you different. Everything you are and have been is important. Everything you enjoy doing and the people you enjoying being around is important. Embrace those things and share stories when writing, creating videos and when participating in interviews.
Be yourself because everybody else is already taken.
Conclusion
Building a personal brand takes a lot of work. Most people understand this and because it seems like such a daunting task, many stop before they even get started. But with the steps above you have a path to take to reach your career goals. Take it one step at a time. Start with your vision and then take each step to reach the next level and then the next level. It's worked for influencers in the past and it can work for you now.
You only get one life. You owe it to yourself to pursue your own happiness. I know the steps above can help you achieve it.
Did I miss anything? I'd love to hear your thoughts on personal brand building in the comments.
Images: Silicon Prairie News, Celestine Chua, Bogdan Suditu, Tetsumo
Author Bio: Aaron Agius is an experienced search, content and social marketer. He has worked with some of the world's largest and most recognized brands to build their online presence. See more from Aaron at Louder Online, Facebook, Twitter, and LinkedIn.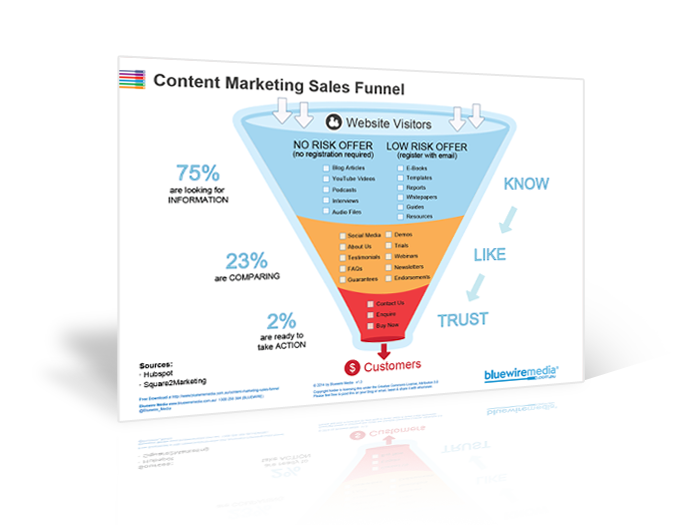 Content Marketing Sales Funnel
Your content marketing sales funnel is all about getting people to know, like and trust you by nurturing them with the right information at the right time.