Can you afford free social media? [Part 1]
Updated on November 26th, 2019
Is free social media, really free?
This is a guest article by John Russell, a Senior Accountant & Business Strategist for Quill Group  & Author of Living with an Illness – 10 stages to dealing with your illness – an e-book that he's made available for free.
Welcome John Russell…..
As a Business Strategist I am often asked about social media and whether I am able to build successful strategies that will see my clients' businesses flourish. The short answer is yes I can, with both hands tied behind my back. However, my response is never that simple and straight forward.
We all know anyone can create Facebook, Twitter, Pinterest etc. etc. accounts. In fact, it's not only easy to create one of these accounts, it's free. This is however until we remember the old saying that our parents drummed into us when we were growing up.  "Nothing is free".
"NOTHING IS FREE"
The fact that these accounts are so easily set up is a real issue for people who have no idea what they are doing when it comes to social media. The people that have taken no time to prepare a strategy.  Nor a budget for the so called "free" social media quest that they are about to embark on.
The fact is you can set up as many social media accounts as you like. You can tweet until the cows come home. However, your social media strategy will not work (barring some incredible miracle) without a clear strategy and a strict budget.
TIME = MONEY
Another old saying – "time is money" – this is lesson number one in budgeting and contains two of the most important resources responsible to ensure a successful strategy (time & money). For example, let's say you decide to head into the social media arena without a strategy, essentially entering the Colosseum blindfolded, your initial thought might be to make a member of the admin team responsible for the maintenance of your newly created "free" marketing tools.
Mistake No. 1.
Your admin team already have a job, administration. Unless they are literally doing nothing all day (which would be a completely different problem) their days are already taken up by the jobs that they currently do, and were assumingly hired to do. Not only that, but admin staff don't specialise in social media marketing – they specialise in admin. That's not to say that they're not capable, more to say that it's not their job.
Regardless, without a clearly defined strategy they would still be blind in battle. Most importantly though – the minute that they enter that arena and touch one of these social media beasts – your social media is no longer free as two resources have been applied to it – time & money. This is the most simplistic form of social media strategy budgeting and if you are unable to budget properly then social media may not be for you.
USE IT (PROPERLY) OR LOSE IT
While time and money are two very obvious resources that you will need to apply to a successful marketing strategy – two equally important resources are skills & people. To be able to employ a successful social media strategy, whoever is responsible must have the right skills to be able to successfully see a strategy through from start to finish. This can and will include a deep understanding of the importance of timing, content, responsiveness & awareness.
For example, if the staff member you assign to looking after your social media accounts has no prior marketing or social media knowledge – you've created a sink or swim situation where the most likely outcome is to sink. Unnecessary pressure leads to an increase in staff turnover which consequently affects the client experience. This will eventually negatively impact your business's bottom line.
TO DO, OR NOT TO DO, THAT IS THE QUESTION…
As a business owner or CEO, if you recognise that creating these accounts is not actually a free exercise, you know that you need a strategy and budget in place, and you know that you need the right people with the right skills to be responsible for this strategy (or at least recognise that a significant investment of time & money will need to be made to get them ready) – you should be able to decide pretty quickly away whether or not your business is ready to enter this arena. Early entrance could see your business peril at the very feet of the marketing tool you thought would see your business flourish.
---
MY MARKETING METHODOLOGY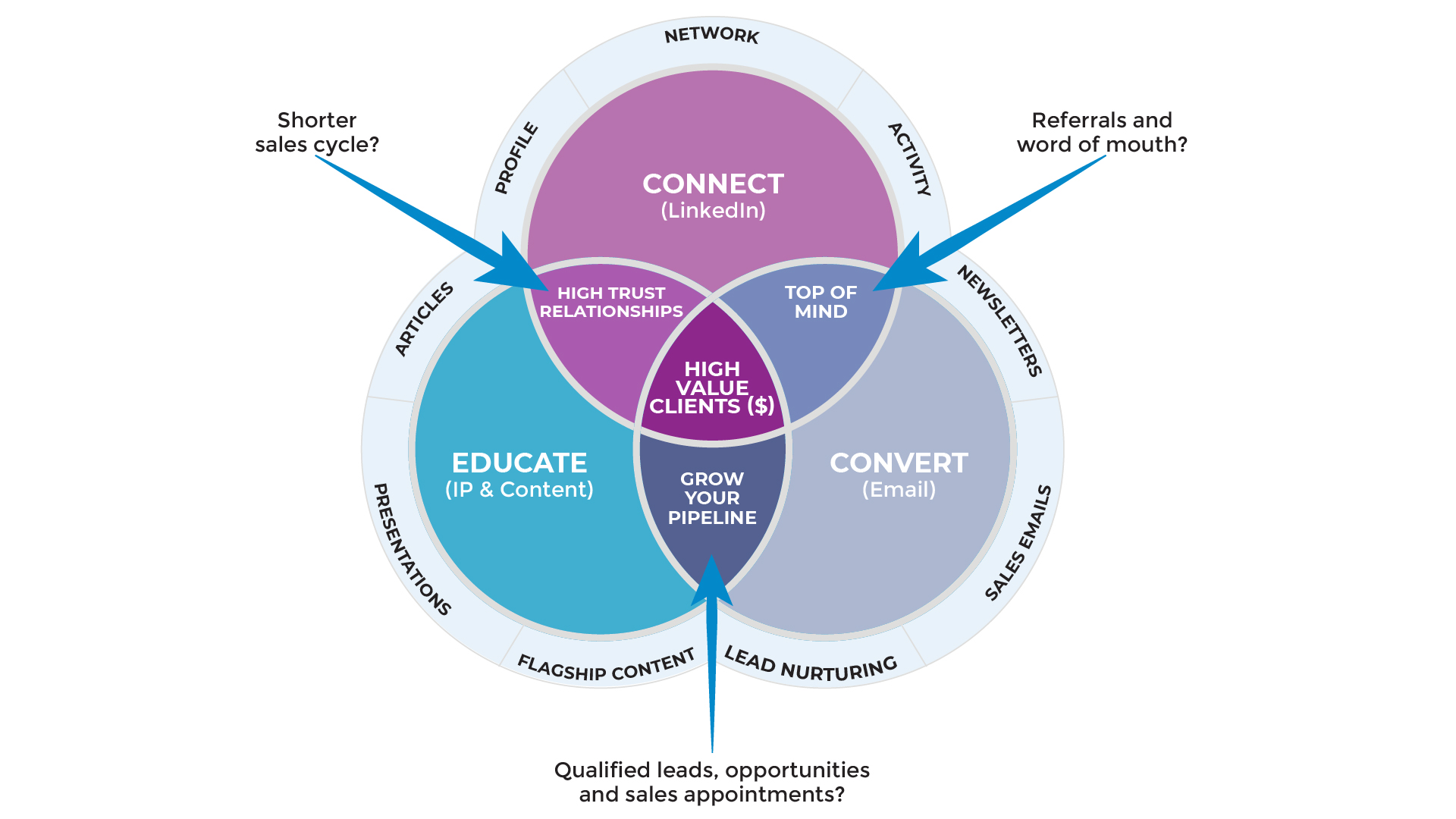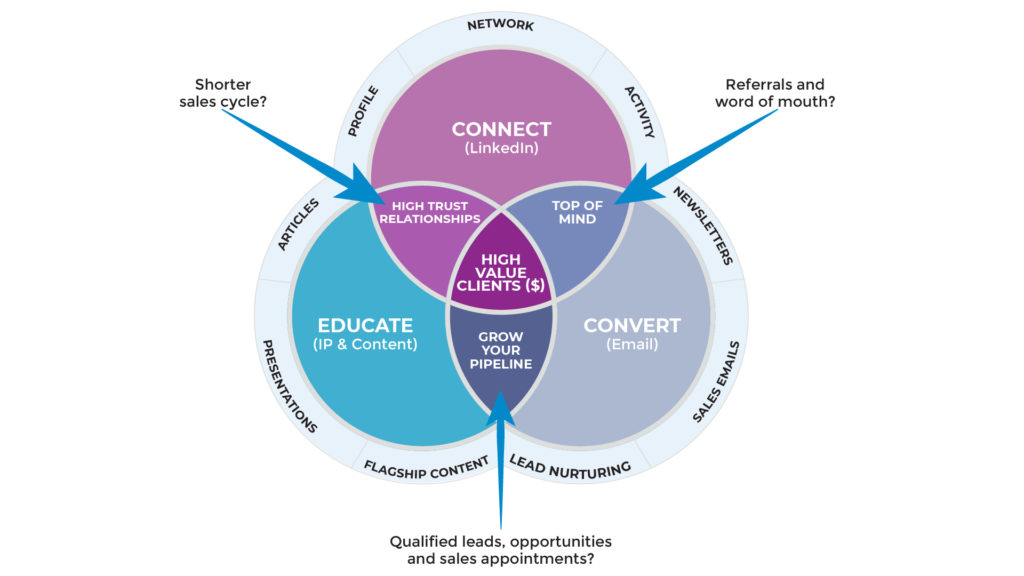 PS. When you're ready, here are 6 ways we help
consultants & advisors

grow:

1. Web Strategy Planning Template (PDF). Our flagship 1-page tool we co-created with David Meerman Scott. It's been downloaded over 1 million times and featured on Forbes.

2. Read a free chapter from our book. Web Marketing That Works --- an Amazon #1 best seller.

3. Join the private group on Facebook. Access free training resources, and hang out with 2,300+ peers.

4. Discover your marketing score. Take the 40 point Marketing Scorecard (in < 6mins) and get a customised report.

5. DIY for $7. Get the Complete 50+ Script Library for connecting with people to winning clients.

6. Let's brainstorm how to fill your marketing funnel.

DM the word "INTERESTED"

via Messenger

 or 

book a 20 min slot to talk

 on Zoom.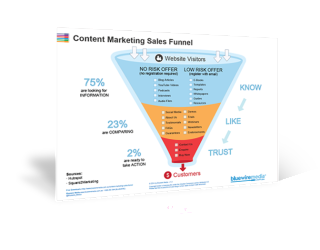 Content Marketing Sales Funnel
Your content marketing sales funnel is all about getting people to know, like and trust you by nurturing them with the right information at the right time.