Do You Need Email In Your Sales Funnel?
Updated on March 12th, 2021
If you're a business with an online presence, should you be selling directly to new visitors on your website, or should you be collecting emails first?
How early in an online relationship should you be pitching?
Statistics can give us an overview – according to Kissmetrics, only 4% of visitors to an average website are ready to buy on their first visit – but as every business and every product is different, it's impossible to know the right move for your business unless we dig a little deeper.
Who's not using an email funnel?
First, what exactly are we talking about? For the purposes of this post, I want to draw comparisons between businesses with email funnels, and those without. Before I delve into exactly what an email funnel is, here are some examples of businesses without them:
Service businesses that invite new visitors to their sites to "get a quote" or "sign up for an assessment", but don't collect emails.
Online info-products that either sell directly from the creator's homepage, or from a hosted sales page, like those on platforms like Teachable.
Consultants with a "hire me" page, and an intake form, but no email opt-in on the homepage or content pages.
But which businesses should have email funnels, and which shouldn't? More on that below.
First let's talk about exactly what an email funnel is…
What is an Email Funnel?
In its most basic form, an email funnel consists of an opt-in offer at the top, at least one email, and a sales page or offer at the end. Some common email funnels are:
Experts with authority platforms, from Derek Halpern to Seth Godin, won't offer their info-products or coaching programs for-sale on their sites. Instead, they'll invite visitors to opt-onto their email lists, to whom they sell exclusively.
SaaS products with free-trials will often collect email addresses as a pre-condition to try the software, even if they're not taking credit card info up-front. They then send emails to promote the value of the paid product, make subscribers aware of the end of the free trial ("sign up to keep your access"), and often to re-engage subscribers whose free trials have expired.
Many companies run paid traffic from social ads and search engine marketing to webinar-registration pages, where they collect email addresses as a precondition for registration. They then email subscribers to remind them of the start of the webinar, and often to remind participants that the "cart is open", after the webinar.
Now let's get back to the primary idea of this post…
How do I Know if an Email Funnel is Right For Me?
According to Search Engine Journal, a sales funnel should be as short as possible, and that's obvious on its face. If you can convert at the same rate in 24 hours that you can in 3 weeks, it's nice to have a short sales cycle for reasons from cash-flow to data collection.
But just because you're giving your most enthusiastic segment as early an opportunity to buy as possible doesn't mean you should ignore everyone who's not immediately ready to buy.
As I've written elsewhere, According to Fergal Glynn, VP of marketing at Docurated, most customers need 6-8 interactions with you before they're ready to buy.
Let's talk about how each of the businesses I mentioned above could increase their profitability with an email funnel, and how to calculate the ROI:
Service Businesses
Remember the service businesses offering a quote but not collecting emails? A friend does sales training for such a business. If I were advising them, I would give them two bits of advice:
Keep the "get a quote" front-and-center on the homepage, but collect the email address as a first step, before asking for any other information. That way, if the visitor abandons the page, you haven't lost them.
Use an "exit pop-up" with a "lower commitment" offer: maybe a free report that details the top three mistakes businesses make in the vertical related to the service, or a quiz to tell if your business is a good fit.
Measuring the ROI is simple: how many opt-ins do they get per month from people who don't immediately sign up for the quote, and how many of them eventually convert to a sale? Aside from the expense of a copywriter/funnel strategist and a web developer, it's a very low-overhead tweak for a business with decent cash flow.
Info-Products
Remember the founders with info-products linked directly from their homepage, or, worse, for sales on a hosted sales page with nothing linking to it? I have several clients in exactly that spot. If this sounds like you, my advice would be…
Put an opt-in on your homepage, and on any pieces of popular content drawing eyeballs who might be a fit for your product (you can refine later when you see who actually buys).
Create a lead magnet that solves a simple-but-painful problem related to the content in your flagship product, and offer it to new subscribers in exchange for giving their email addresses.
Write a basic 5-email autoresponder series that builds trust, explains the value proposition of the product, and supplies proof it works.
[Caption: Natlie Sisson of Suitcase Entrepreneur, killing the homepage offer]
They could measure ROI by measuring product sales to subscribers relative to people who found their "desert island" sales page from a random google search, or by a simple "before vs after" comparison.
(For clients I go more in-depth, introducing scarcity elements and one-click upsells for ultra-engaged leads, but the above works just fine, and often 2xes-or-more the profit from a business' existing traffic.)
Consultants
Finally, remember the consultants with the "hire me" or "work with me" page? Many collect emails as a part of the intake form, but then don't ever email people. I'd offer the following advice…
Don't immediately let people schedule a call with you. Instead, "close" your client intake, and open-enrollments periodically. Instead of scheduling a call directly, let visitors opt-in with their email addresses to hear about the next time you're opening your portfolio.
Just as if you were selling an info-product, send an autoresponder with valuable content related to your service.
From time-to-time, send an announcement that you're opening enrollment. In its most basic form, your announcement email can include a link to schedule a call.
Is the above better than simply letting interested prospects schedule a sales call with you directly? You'll have to test it, but here are a couple of reasons I prefer it:
Even if you're doing all your sales calls personally, you should put a value on your time, and compute the hours you spend on the phone as part of acquisition cost. The difference the email funnel is making is qualifying your prospects, and the first way is by selecting people willing to read your content, then respond to an open-enrollment announcement.
The second way email is qualifying your prospects is that by the time they get on a call, subscribers will understand the value of what you do far better.
The result is better conversions on your calls. True, you'll be converting fewer people better, so you'll have to test to see which method delivers the most closes, but remember to compute the value of your time – could you be spending the time you spend on the phone with poorly-qualified prospects doing something that might grow your business better?
Conclusion
So should you be using email in your funnel? If you test an email funnel and it has no greater ROI, you have your answer. But in my experience that's rare, because giving a new subscriber a week of "warm-up" rarely hurts conversions.
Besides, in almost every example, you can still give your most energized prospective customers an early opportunity to buy, which means your email funnel is picking up the extra money, rather than competing with your existing funnel.
For example:
The service is still offering a quote to those ready to get one.
The info-products businesses can give engaged subscribers early opportunities to buy, like one-click upsells.
Consultants can still give enthusiastic prospective clients preferential opportunities, by opening enrollment early to people who take certain actions.
Finally, in my experience, it's extremely rare to see a funnel that's too long, though I see too short funnels all the time. The reason?  Businesses aren't keeping them short because they're worried about hurting sales, but rather because building a longer funnel takes more work.
But by deploying some of the strategies in this article, founders can shorten their learning curve, and stop leaving money on the table.
About Nate
Nate Smith is a direct response copywriter and sales funnel strategist who helps entrepreneurs scale by building better-converting sales funnels. He got his start by taking an info-products business to high-four-figures monthly passive income. Now he helps other business owners do the same.
Bonus 33 Free Templates
Download the 33 free templates from Toby and Adam's book.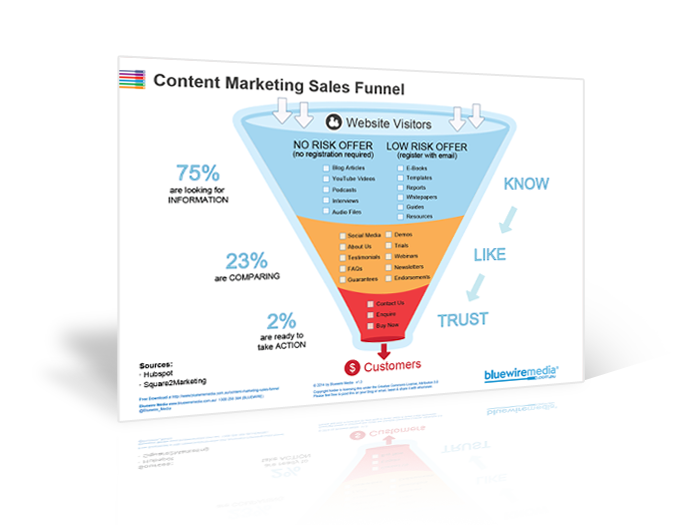 Content Marketing Sales Funnel
Your content marketing sales funnel is all about getting people to know, like and trust you by nurturing them with the right information at the right time.