Email Autoresponder Series: Permanent Marketing Assets
Updated on December 30th, 2019
Email Autoresponder Series

This is a guest post by Vernessa Taylor. 
Vernessa is a micro and small business champion who helps owners choose and use smart technologies in their businesses.
She writes at CoachNotes Blog. To read more of her writings, check out her collection at Contently. For a limited time, get your no-cost copy of her eBook: Engage! Communications PowerPack for WordPress Blogs, 2nd Edition.
Over to you Vernessa…
The New Marketing Assets: Email Autoresponse Series + Landing Pages
Email blasts versus autoresponder series can be likened to manufacturing processes of just-in-time versus stockpiling inventory. Write once, use over and over again: well-crafted email autoresponder series coupled with an optimized landing page equals future-proof permanent marketing assets.
I once worked as a contractor for an automotive and plastics industry parts supply company. My role as a contractor was to come in and balance the numbers of parts ordered, parts previously used, parts in some state of assembly, and parts remaining in inventory. This up-and-coming enterprise was shifting from an inventory-based manufacturing system to something called Just-in-Time (JIT) which means you don't order the parts until you're ready to assemble them. And you don't assemble the parts until an order has been placed for the product. Taken together, this means you don't carry any inventory.
Should Email Marketing Be Based on Just-In-Time? Or Should We Use Autoresponder Series As A Type of Inventory System?
You need to nurture your leads so they stay connected, build their confidence and increase trust. What you need is a strategic, pre-planned sequence of emails to keep your new leads warm and happily waiting to consume more." — Marya Jan, How to Create a Simple Autoresponder Series to Keep Your Leads Hot, 18 Sept 2014
A pre-planned sequence that has already been written is quite the opposite of crafting an email to your list when you have something to report or something new to share (often referred to as an "email blast"). For our purposes, this is the difference between the Just-in-Time process and inventory-based manufacturing.
Both have their merits (speaking of email marketing, of course!).
Contrasting Examples
For this example, I'll use the venerable Andy Bailey (who has been called a lot of things but I bet venerable is not one of them!). Bailey is the mind and developer behind CommentLuv and Anti-Back Linker softwares used on blogs to manage commenting. To me, he epitomizes just-in-time email marketing with his software launches, periodic updates, and what's happening behind the scenes. In contrast, I get The Snackable Writing Course, an email series that focuses on copywriting and crafting persuasive content from U.K.-based Henneke Duistermaat of Enchanting Marketing. Her snackables are timeless, evergreen tips so it doesn't matter whether you learn them today or tomorrow or last year.
The similarities? They both send emails with actionable content. You can reach either of them using the reply function because they're cool like that.
The major differences are these:
For the updates, Andy crafts his emails one at a time, then sends that singular email out to his list (maybe even on the same day).
On the other hand, its plausible that Henneke created a complete course of useful information (maybe even a year ago), loaded the individual course emails up into an autoresponder which now continuously drip-feeds them one after the other no matter when you sign up to her list.
Bailey's emails correspond to just-in-time email marketing, whereas Duistermaat's system is one of inventory-based marketing.
Either way works. But for the rest of this article, I want to talk about the autoresponder series way of manufacturing which is crafting and maintaining an inventory-based permanent marketing asset.
Inventory Equals Assets
Autoresponders are your virtual sales team, your automated customer service crew, your marketing department without borders. After determining and crafting the series of communications to be sent to customers, inquirers, potential buyers, you set a schedule and set it in motion.
Permanent Marketing Assets
But your autoresponder series is more than a series of emailed communications.
I listened to a recent podcast featuring Bluewire Media's Adam Franklin on The Business Success Factory broadcast. To paraphrase, Adam said:
Autoresponder sequence marketing is an asset, today, tomorrow, next year. It's a permanent asset, compounding, paying dividends without extra work.
Adam referred to content marketing as a way to ensure that you have permanent marketing assets. To my surprise and delight, he specifically included autoresponder series as a marketing asset. So we're not far off the mark when we consider carefully crafted autoresponse series as inventory, which is effectively an asset.
Even though virtual, the time invested in creating these assets continues to pay dividends by priming the pump, bringing qualified customers, answering customer service questions (even before they're asked), and building relationships. Using autoresponder series increases ROI and decreases both the cost to acquire new customers and retain existing ones.
A Match Made in Email Marketing Heaven: Autoresponder Series + Landing Page
Now that you've got it, what are you going to do with it? If crafting your autoresponse series gives you permanent marketing assets, coupling it with a landing page multiplies your assets exponentially. Today, I want to point out a match made in email marketing heaven: your relationship-building, lead nurturing autoresponse series and your landing page.
Just as you use traffic-generating keywords in your sites, dynamic landing pages will change in response to whatever ad or search phrase led the reader there. By utilizing specific keyword links in your emails, you can control the web content offered to your reader. The rewards are twofold: not only can that tailored content boost conversion rates, those pages can also help you measure the effectiveness of your campaigns. — Marketo & LeadMD from A Decade Into Email Marketing: Where Are We Now?
Don't Waste Your Landing Page
A lot of the focus on landing pages is on how to craft them, how to optimize them, and how to use one to entice someone to grab your free ebook or report. Or using a landing page to get someone to subscribe to updates to your business blog. Nothing wrong with any of that.
But your landing page is being wasted if all you are doing with it is using it to entice someone to sign up for blog updates. In fact, that is a lazy way out because it relieves you of the responsibility to create compelling content, specifically as future-proof marketing assets, and lulls you into a false sense of who your target market is, your buying public. (How many sales do you make from people who subscribe to blog updates?)
At one time or another I've used standalone solutions including Aweber, Get Response, and Autoresponse Plus (now arpReach) and a few others. Marketing automation systems like Marketo and Infusion include their own utilities for managing autoresponder series as well as creating the landing pages to hook your series into. It doesn't matter whose system you use, whether an online service or a standalone solution on your own servers.
What matters is the importance you place upon the solution, the investment to make it happen, and what you do with the leads generated from your landing pages.
Resources for Landing Pages
Rather than talk about how to setup or optimize your landing page for use with your autoresponse series, I'll share some of the top resources for creating landing pages that work as intended:
Let's Hear Your Thoughts
Can you feel the buzz of ideas flowing? What do you think? Which type of email marketing are you currently using, just-in-time or inventory-based?
Are you for or against one practice over the other? Willing to write (or re-write) your automated emails? Are you treating your email marketing as a permanent marketing asset and using your landing pages to tie into a carefully crafted, relationship-building autoresponder series?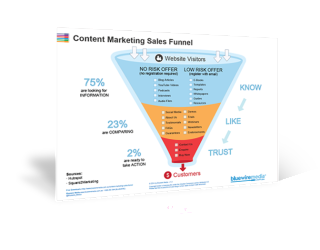 Content Marketing Sales Funnel
Your content marketing sales funnel is all about getting people to know, like and trust you by nurturing them with the right information at the right time.