How Often Should I Post On Social Media and My Blog?
Updated on November 23rd, 2019
How often to post on social media
How often do you post on social media?  This is a question many business owners and digital marketing consultants want to know.
Whether you're just building out your content marketing plan, or you already have a library full of articles to share, putting together a well thought out content publishing rhythm will give your marketing strategy the direction it needs.
The truth is, you need a good foundation of consistently-published, high-quality content if you're looking to stand out. That's what your competition is doing. In 2015, 70% of surveyed marketers reported that they are "creating more content than they did one year ago," according to Content Marketing Institute.
Don't panic if you're unsure about when, where and how often you should publish content on social media and your blog. We've created a template to help you figure it all out. The Content Publishing Rhythm Template comes from the hundreds of conversations Toby and Adam have had with aspirational content marketers all over the world.  These conversations typically go a little something like this… "How often should I publish content on social media? What's the best rhythm?"
The rest of the post will help you understand the most effective way to schedule your content all year round using this template.
How often should I publish content?
When asked how often they published new content, be it on social media or their blog to support their content marketing strategy, 42% of marketers reported publishing something "multiple times a week" or "daily". (Content Marketing Institute)
I'm sure you know that producing interesting and shareable content is hard enough. But knowing when and how often to publish that content can be a tough nut to crack as well.
The content publishing rhythm template includes brief examples of the types of content that are best to share and how often to share them. So let's take a closer look at each kind of content and provide some examples, so that you'll be on your way to a well-oiled content publishing rhythm.
What content should I share daily?
Think about the people who you are in touch with on a regular basis – coworkers, friends, and family. These are the people we check in with and will keep posted on how things are going in our world every day.
If you're a brand or business, you still have that close circle of people who are interested in what you're up to. Many of us follow our favourite brands online. 95% of online adults aged 18-34 follow a brand on social media,. n fact. It makes sense to check in with your fans, especially if you've set up a page where they can follow you.
Modcloth is a women's clothing and lifestyle brand that specialises in vintage-inspired style. They have an online presence that includes a website, blog, and several social media accounts. They keep their customers up to date on deals and trends through these platforms, and post multiple times a day on Facebook.
With over 1 million followers on Facebook, Modcloth has certainly made a name for itself online. Part of this is the frequency at which they publish content. Appealing photography, helpful content (like in the above "tips" post), and frequent updates from Modcloth keeps customers engaged and curious about the next season's trends.
This doesn't necessarily mean you need to create a Facebook account for your business and start posting daily. Determine where your audience is online and be active there. If they're talking on Twitter and Instagram, stick with those channels and create a consistent publishing schedule.
What content should I share weekly?
Weekly content is going to be in longer formats, usually, than daily content like social media posts.
Common types of weekly content include newsletters and blog posts. 53% of all bloggers online, in fact, are publishing at least weekly. (Orbit Media)
You can set up a weekly newsletter for any of your customers or audience fairly easily. Platforms like MailChimp, for instance, make publishing an online newsletter incredibly easy and professional-looking.
Looking for ideas for what should go in a newsletter? Many brands use their newsletter as an opportunity to tell followers about upcoming events, new blog posts, discounts, or interesting content they want to share.
The following example is from SaaS Weekly, and the newsletter is a round-up of all things SaaS, curated by Hiten Shah.
Subscribers to your weekly newsletter or blog are looking for updates similar to this SaaS newsletter – give them helpful content they might want to share, news from your company, or events that are relevant to them.
Let's look at how often to post on social media.
What content should I share monthly?
If you're not quite ready for a weekly newsletter, you can opt for sending one on a monthly basis.
Perhaps there are other kinds of content that you'd like to generate: videos, images, e-books, etc.
Visit other websites and take a look at the brands that you're following online – what kind of content are they publishing? Brainstorm with your team the type of content you'd like to generate. And while you might not be ready to produce content daily or weekly, setting aside time to distribute something monthly is often more feasible.
If you commit to publishing this content monthly – whether it's a video or a newsletter – you'll want it to be high-quality, and comprehensive enough to make your audience check in again the next month for new content.
What content should I share quarterly?
On a quarterly basis, you should attempt to publish a piece of content that is considered "premium" – something that you would charge customers for or that you'd like to use for lead generation.
Sometimes marketing agencies will have one person on the team that is dedicated to creating long-form pieces like this. A few ideas for this kind of quality content include:
E-books – these are usually in PDF form and require an email to download
This e-book from Square2Marketing is a helpful guide on inbound marketing. Accessing the document requires only an email address, and is available on the Resources page of the Square2Marketing site. This is an example of something more substantial that you could create at less regular intervals.
Templates – can help with longer term lead generation programs
Webinars – can feature guest speakers, and recorded versions can be made available for further use
The following webinar is available for viewing to anyone that visits Jo Muirhead's site – this kind of content is ideal for quarterly distribution, especially if you're just building out your content marketing calendar. The video is a recording of a live webinar from December of 2015, but the content is still relevant and share-worthy.
What content should I share annually?
Finally on "how often should i post on social media?" let's look at what to post each year.
The type of content that you produce once a year should be just a bit more exclusive and comprehensive than your other content. You want to provide a lot of value, and spend plenty of time promoting your hard work.
Hubspot announced that their Inbound Marketing Report for 2016 was available, and made sure to promote it through a number of different channels, including social media.
The report is free, all that Hubspot requires for download is an email address and other contact information, but what is provided in the report is an extensive guide and plenty of research on the current trends in inbound marketing (an industry in which Hubspot is essentially dominating, when it comes to reports and trends).
And once you download the report, what follows is a visually appealing, in-depth report on the current state of online marketing. The document is so thorough, it's easy to see why Hubspot customers and online followers would view the company as the go-to resource for all things inbound.
Using the Content Publishing Rhythm Template
Great, now we've answered "how often should I post on social media?"
Hopefully the examples that I've given here have inspired some ideas for content that you can produce (or reuse) and start publishing on a regular rhythm.
If you're just starting out, this amount of content might seem overwhelming, but the idea is to start planning the direction that you want to take your content marketing strategy. From there you'll be able to start creating that content, and building your own community of fans.
What kind of content are you producing regularly?  Do you have a content publishing rhythm set for your business?
BLUEWIRE MARKETING METHODOLOGY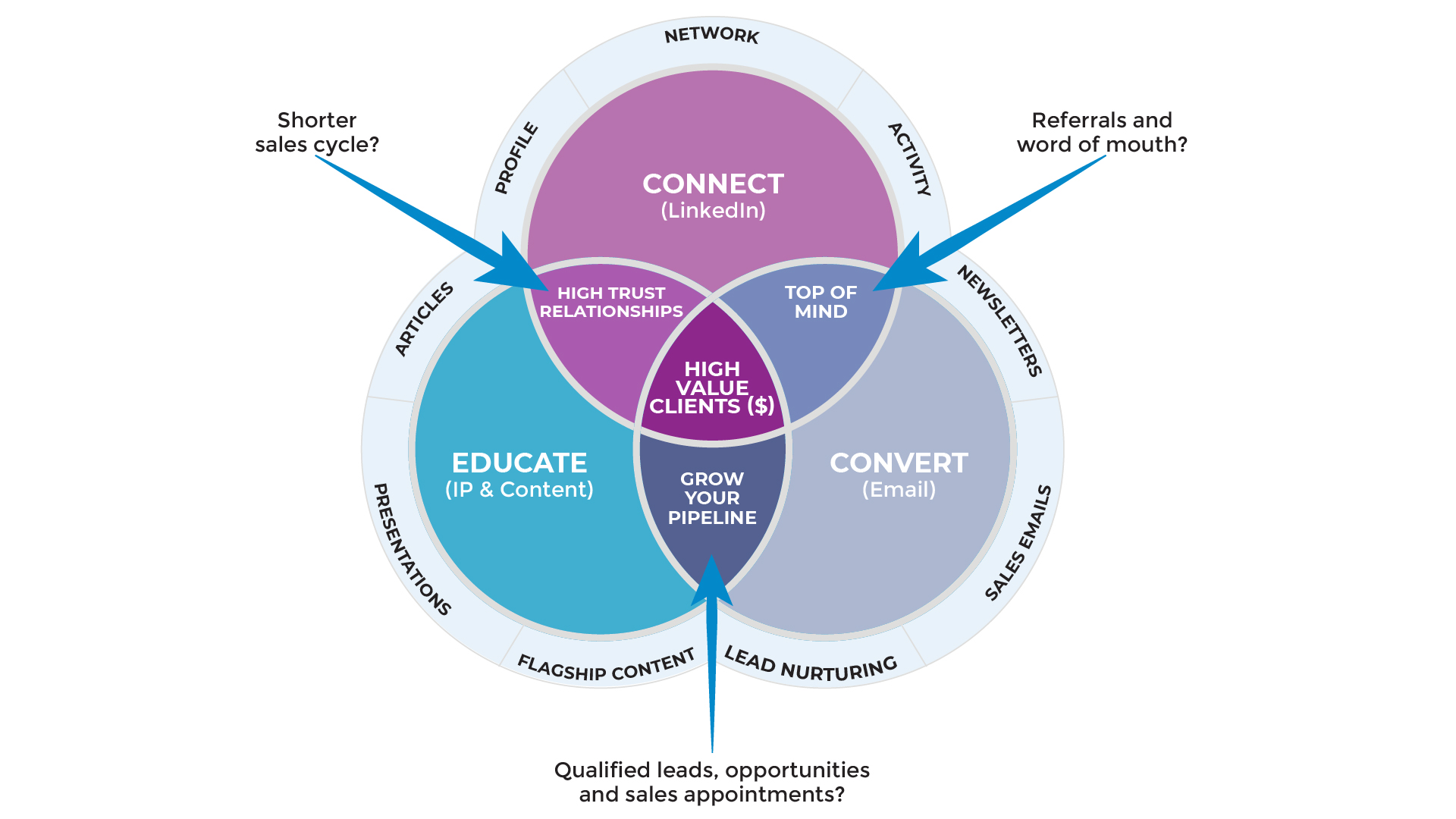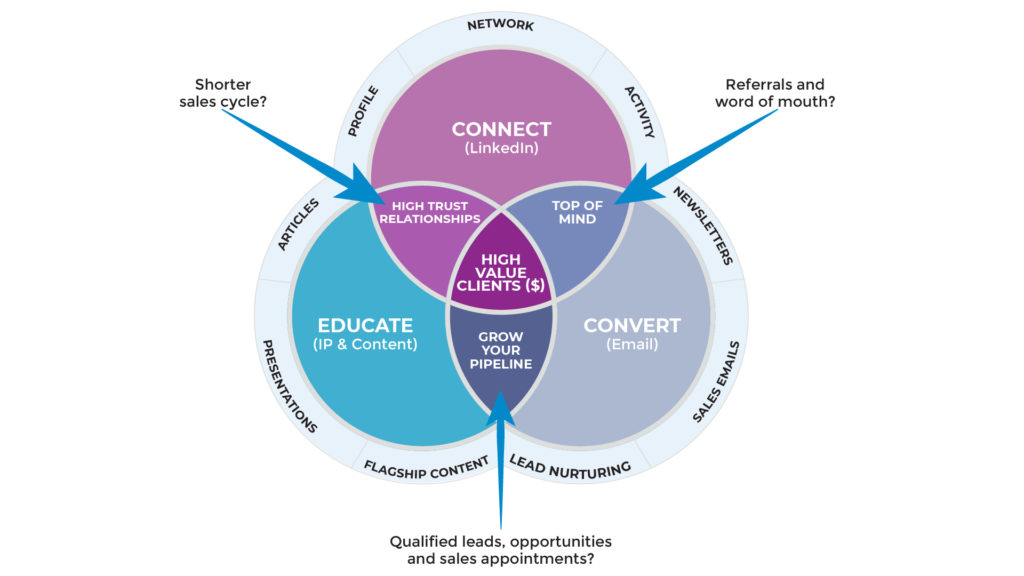 PS. When you're ready, here are 6 ways we help
consultants & advisors

grow:

1. Web Strategy Planning Template (PDF). Our flagship 1-page tool we co-created with David Meerman Scott. It's been downloaded over 1 million times and featured on Forbes.

2. Read a free chapter from our book. Web Marketing That Works --- an Amazon #1 best seller.

3. Join the private group on Facebook. Access free training resources, and hang out with 2,300+ peers.

4. Discover your marketing score. Take the 40 point Marketing Scorecard (in < 6mins) and get a customised report.

5. DIY for $7. Get the Complete 50+ Script Library for connecting with people to winning clients.

6. Let's brainstorm how to fill your marketing funnel.

DM the word "INTERESTED"

via Messenger

 or 

book a 20 min slot to talk

 on Zoom.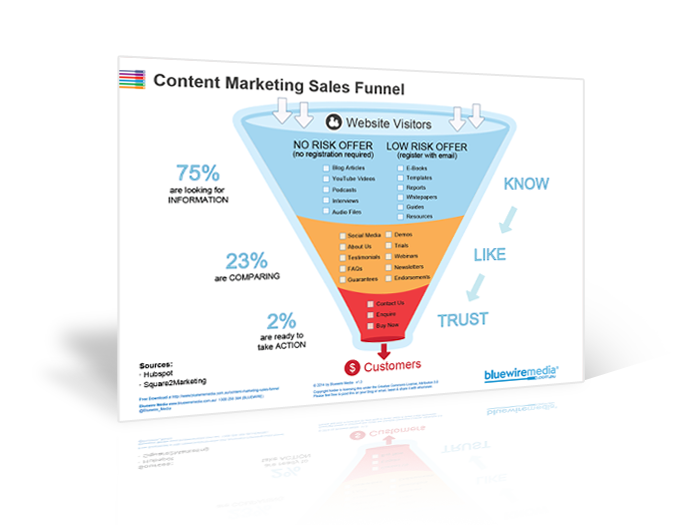 Content Marketing Sales Funnel
Your content marketing sales funnel is all about getting people to know, like and trust you by nurturing them with the right information at the right time.