How to Transition to a Digital Marketing Job
Updated on January 28th, 2021
Digital marketing is an in-demand skill. According to this report, there are approximately 174,000 job postings for digital marketing positions.
However, the field is competitive, so making a spot for you on a digital marketing job will not be easy. The job is a dream career for many candidates because it gives you flexibility, high earnings, and it utilizes creativity.
Do not fret – there will always be competition. We are here to show you how to distinguish yourself from other candidates and land you a job in digital marketing.
Learn digital marketing skills
Education is still key to landing your ideal digital marketing job. Some employers want job candidates to have formal education as proof of your skills. Accreditation can be earned by either going to college for a bachelor's degree, or you can study with some of the best digital marketing bootcamps.
Bootcamps are a popular option because many schools adopt adaptive education models, have high employment rates, and offer classes for low prices. If you are going for a complete course, Thinkful is one of the best schools that will teach you how to become a digital marketer.
Try internship
Some people automatically think interns are college students who bring coffee and do minor tasks in a company. This may be true in some companies, but an internship is the best way to gain experience and learn about the workspace.
Many companies do not hire fresh graduates with little field experience, so an internship could be a platform to expand your network and find open doors for your career.
Build your digital presence
In the past, employers used to look at your physical resume, exploring your education and experience on a piece of paper. However, the hiring process has changed a lot. Companies now want to ensure candidates are good digital marketers. If you have some online presence and have properly optimized your profiles, you are expected to do the same for your employers.
Now, you don't only need to put yourself out there, but you also need to have an opinion and show your personality. This way, companies will see that you are not a bot, but someone who can work with sensibility and creativity.
Start a blog
A blog is a great tool for you to showcase your skills and get people to know the real you.  It is also a good way to practice SEO techniques that shows potential employers or clients how well you optimize content. In addition, blogging is a great way to showcase your resume. If your blog is well optimized, recruiters can easily access your portfolio.
Digital versus traditional marketing
If you want to start your digital marketing journey, you need to understand what differentiates the field with its traditional counterpart. Even though both are similar in terms of content and design, digital marketing has a more data-driven approach.
Digital marketing professionals analyze client sales data and other information to draft strategies. Digital marketing also works with two kinds of approaches in advertising: paid and organic. If you want to be a master in this field, you will need to handle both.
Specialize in a subfield
Digital marketing has many specialty areas to choose from and companies tend to prefer hiring a candidate who is experienced in a particular subfield rather than a jack of all trade. Specialized professions usually know in-depth strategies in a specific area, such as database and direct marketing.
At first, you do not need to specialize – try a little of everything as you gain experience in digital marketing. However, once you have a sense of how each area works, commit to specializing in a particular subfield that works best for you.
Keep learning
New trends, strategies, and algorithms are imminent in the field of digital marketing. Staying on top of knowing what they help your chance of success. You must ensure your skills are up-to-date. This way, you are prepared for new challenges.
Successful digital marketers constantly study the scope of today's trends to deploy strategies that work.
Take strategic advantage of your Linkedin presence
According to a Hootsuite report, more than 467 people utilize Linkedin today. This shows how important the social platform is for networking and employment. Major companies have a Linkedin presence and many will probe your profile before hiring you.
There are great things you can do to make your career profile on Linkedin more appealing. A candidate should have eye-catching summaries of specific digital marketing skills and experience. And if you can afford it, pay for the platform's premium plan because it offers useful career tools, such as online courses. Through your Linkedin profile, pitch your career message to prospective companies.
'It's not about what you know; it's about who you know'
This old saying couldn't be more accurate for the topic of networking. Having a solid network of professionals opens doors for your career. Do not underestimate digital marketing meetups and conferences, they are a great way to get acquainted with amazing people in the industry.
The more people you know, the better. And don't be shy when it's time to show your skills and experience. Have you ever read Austin Kleon's book Show Your Work!? Kleon talks about the importance of letting people know about your projects, experiences, and talents. Networking is a good way to advertise your name. So, try to explore all types of networking activities to boost up your career.
About Artur Meyster
Artur Meyster is the CTO of Career Karma (YC W19), an online marketplace that matches career switchers with coding bootcamps. He is also the host of the Breaking Into Startups podcast, which features people with non-traditional backgrounds who broke into tech.
twitter.com/arturmeyster
linkedin.com/in/meyster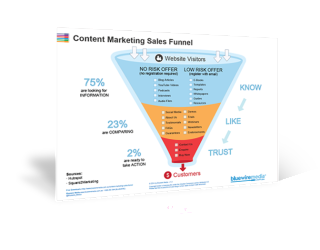 Content Marketing Sales Funnel
Your content marketing sales funnel is all about getting people to know, like and trust you by nurturing them with the right information at the right time.