Top Inbound Marketing Tips for Ecommerce Websites
Inbound Marketing for Ecommerce
Starting and managing an ecommerce business is never an easy task. Making sure that your ecommerce business is lucrative is a different matter altogether.
The ecommerce industry is booming with a projected sales revenue of $7 trillion by the year 2023 according to recent studies.
Even large companies like Facebook, Pinterest, and Instagram are getting into the ecommerce sector to take advantage of the growing number of users utilizing their mobile devices to make online purchases.
Not only does your ecommerce business have to compete with these new players but it has to compete against the likes of Amazon and Google both of which are now using voice search to enable consumers to find products and quickly make purchases.
So how can your business compete?
Traditionally businesses relied upon outbound marketing to drum up new business. Tactics like cold calling, TV/ newspaper ads and even those annoying banner ads that seem to follow you everywhere were seen to be the best way to gain new customers!
However, consumers are fed up with this traditional method of marketing. They are more eager to interact with businesses through new avenues. They actively look for businesses and brands online that can provide what they need.
That's where inbound marketing comes in. Unlike outbound, inbound marketing focuses on providing value content via channels such as search engines, social media, and website blogs that your consumers are actively using.
As you acquire customers via these channels from your value propositions, they inevitably discover your products and services and are much more likely to become your customers.
Inbound marketing also has the added benefits of decreasing your marketing spend whilst improving your conversions.
Here are 5 inbound marketing tips for ecommerce websites that your business can use to draw in new customers.
1. Acquire Customer Reviews to Build Trust
As the popularity of social media and internet usage grows consumers search for positive reviews of products and services before making an online purchase.
Ecommerce websites often only include reviews on their own site and worse still often ignore acquiring reviews altogether!
Over 90% of consumers prefer reading a review online prior to making a purchase and liken a review to a recommendation they may get from friends and family.
Positive reviews left on external sites can help to build trust in your ecommerce store and brand. This will also increase the conversion rates of your site.
When you add your site to websites like reviews.io or trustpilot.com it can help build trust and the reputation of your ecommerce store online.
Not only can your customers leave reviews but these services are integrated into the Google search engine. This has the added benefit of showing a start rating for your site when its show in the search results.
You can get started fairly easily. Simply signup to your preferred service and add in your store's address. From there you will have a variety of options to automate the process of collecting reviews from customers who buy from you. It truly is a hands-off automated process you shouldn't ignore.
2. Inbound Marketing for Ecommerce:  SEO
SEO is an extremely important tool for inbound marketing for Ecommerce sites. Implemented properly and search engine optimization can increase the visibility of your store in the organic search results. This will have a direct impact on the number of visitors that visit your ecommerce store.
The search engines read your website much differently in comparison to humans. You may have great content that's super informative and provides value to human readers. But to get increased visibility in the search results you also need to ensure that the search engines can read that information correctly.
Optimize your ecommerce store
Optimize your ecommerce store for the following elements to ensure that the search engines can crawl and read your site efficiently.
Structured data – Essentially this is code that's wrapped around certain elements of your site. It makes it easier for the search engine bots to understand.
Structured data can be wrapped around your product titles, descriptions, price, variations and even reviews. This will help your product page(s) appear higher in the search results.
Many ecommerce stores lack this basic implementation. Adding structured data to your store will allow you to be 1 step ahead of your competitors.
Website URLs – Each page and specifically product page(s) on your site should have a unique and relevant URL. Including your keyword with the URL will also keep that page relevant. Take these examples of an unoptimized and optimized URL:
Unoptimized: yourecommercestore.com/product-kjkjjhjfhufs
Optimized: yourecommercestore.com/black-camping-tent
Search engines will be able to understand the optimized URL much better than the unoptimized version.
Page Titles – Ensure that your page titles are easy to read, contain your main keyword and are relevant to your URL. This reinforces the relevancy that the search engines will see.
Canonical Tags – Large ecommerce sites often have many duplicate pages especially if you have many variations of a product in your store.
Setting a canonical URL will help to eliminate duplicate content and tell the search engines which is the original URL they should use.
Good ecommerce solutions often have a setting in the admin section that you can turn on to add a canonical URL to your store's pages. There is no manual intervention required apart from turning the setting on!
3. Content is King
You already know that good quality content can help increase your visibility in search engines and ultimately get you more traffic.
Ecommerce stores however often overlook this aspect on their product pages. Product pages are often bland and include only a few lines for their description and a bullet point list of technical specs.
Go one step further. Add in helpful guides and useful information that not only the search engines can consume but potential customers can use to decide to make a purchase.
Take the example of the Sierra Designs website:
Not only do they include the basic product information but they go 1 step further and provide video guides and helpful information. That gives a potential customer all the information they need to make an informed choice.
After all the customer cannot touch or feel a product like they would in a normal store. Including helpful guides and information in a video format not only allows them to experience what the product would be like but also helps to answer many common questions they may have.
4. Add Scarcity to Product Pages
A fairly new tactic that is being used by some of the big online ecommerce brands is using scarcity hacks.
Some of the different types of scarcity hacks are:
X amount of purchases of the product
Y person from X location made a purchase
X amount of time remaining on the offer
Y amount remaining in stock
Humans are emotional beings. Invoking a sense of urgency will lead to a purchase being made. Think about it. When you smell freshly baked bread or say an apple pie does it not want you to take a bite straight away? Scarcity online works in a similar fashion!
When you add in scarcity to your product offers, wrapped in structured data, you get that additional short-term visibility from the search engines too.
After all, if you have a product on offer for X amount of time it's highly unlikely that will be shown in the search engines after the promotions ended. If anything, there is more of a chance the product gets shown more due to the time restrictive offer you have in place.
5. Exit-Intent Popups
Let's face it pop-ups are annoying. But, exit-intent popups are not those that appear immediately when you visit a site. No, they only appear when a visitor is leaving your store.
These exit-intent popups can include special offers and promotions which can persuade the potential customer to make an immediate purchase.
There are many different ways you can use these types of popups. You can offer an immediate offer or promotion.
However, one often overlooked option is being able to configure them to share the promotion across social media.  And also to send an email to friends and family. This informs them of the great deal you have on your store.
Not only will you have converted that browsing visitor but it will bring in more visitors.
Wrapping up – Inbound Marketing for Ecommerce
Whilst these inbound web marketing tips may not be anything remarkable on their own, in combination they can attract more visitors to your store. The more visitors you attract the more trust your site will build.
Implementing all the small tips into an ecommerce strategy will result in a much more lucrative and popular ecommerce store.
Now it's your turn. What is your most favorite strategy? Share your thoughts with us below.
About the Author
Andy Clarke is Content Executive @ Umbrella Host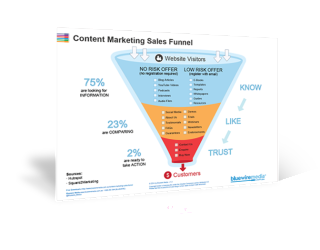 Content Marketing Sales Funnel
Your content marketing sales funnel is all about getting people to know, like and trust you by nurturing them with the right information at the right time.