Keyword Ideas Missing? Top 5 Places Where You Can Find Them
Updated on April 15th, 2020
Keyword ideas missing?
SEO might have changed a lot over the years but keywords still matter a lot. If you can optimise your content with the right keywords, you've got a great chance of scoring highly in the SERPs and reigning in more organic traffic.
But here's the snag.. what if keyword ideas are missing?
What do you do if you're tired of the same old keyword suggestions? What if your old methods of finding keywords just aren't working anymore? Worse still, what if you keep picking the same keywords as your competitors?
In short, you need to get creative. And one way you can do this is by using methods that are different to everyone else's.
In this article, we're going to take a look at 5 places you can find your next keyword ideas.
1. Get Feedback From Your Customers
How often do you talk to your customers? If the answer is "not very often," now's the time to open a conversation with them. Talking to your customers regularly is important for building relationships, but it also provides valuable insights into what they're really looking for from you.
The idea here is that you ask them directly (via email, ideally) what problems they hope your product/service/niche can solve.
For example, you could shoot them an email that simply asks them to briefly describe their biggest issues.
Let's say I've got an SEO tool and I ask my customers about their biggest problems. Their answers might be things like "tracking links", "optimising content", or "ranking higher."
These answers tell me two things. First, they tell me what it is they want from my tool. This, then, helps me to build a better tool. Second, these answers give me keyword ideas.
Not just that, but they show me the exact language my customers are using.
Look at it like this: "Tracking links" is a problem and a short tail keyword. But it's more than that – it's also a topic I can create content around whilst optimising it for SEO. Bingo!
Talking to your customers gets you into their headspace and uncovers keyword ideas you may never even have thought of before. Even better, it uncovers keyword ideas your rivals are probably missing out on, too.
2. Use Google's "Searches Related To …" Feature
Whenever you do a search on Google, you can scroll down to the bottom of the page until you come across more search ideas. They're under the 'Searches related to …' header, as seen in the screenshot below.
This is a really neat feature from Google that's still undervalued among marketers. When you're fresh out of ideas, it helps you to find new long-tail keyword ideas.
Using my search query "link building," you can see that Google has suggested me 8 long-tail keyword ideas:
I may have already used some of them in the past, but there will be a couple that I've not thought of before. For example, 'link building tutorial' is a pretty cool one.
Next, I click on 'link building tutorial' and do two things: I scan the content on the first page for content and keyword ideas, and I scroll right down to the bottom to see what other related search terms have been recommended to me. This gives me even more keyword ideas.
Naturally, you'll want to test the volume and competition of each keyword to make sure it's worth using, and you can do this using Google's Keyword Planner. But, really, Google's Searches Related To … feature is like a cool little rabbit hole filled with ideas.
3. Reddit & Quora
I love online communities like Reddit and Quora. The reason I love them is because they're a great source of information whenever I can't find an answer on Google, but I also love them because they're where my customers are. I can pop onto these sites and see exactly what my customers are talking about – what issues are concerning them the most.
This alone makes them a valuable goldmine of keyword ideas.
For example, let's say I work in the digital marketing space and I need some keywords. I'm all maxed out of ideas and sick and tired of using the same keywords over and over again. So I pop over to Quora and type in a popular question in my niche: 'Best digital marketing tools'.
All of a sudden, loads of new keyword ideas are popping out at me:
Now, some of these long-tail keywords won't have huge search volume. In fact, some might have really low search volume. But here's the thing: They'll likely belong to topics that are rich with related search queries.
Let's take 'which digital marketing tools optimise customer experience to increase conversions'. That's a super long search query, but it's telling us what customers in our niche are looking for: They want customer experience tools to boost conversions.
All of a sudden, 'customer experience tools to boost conversion' jumps out at us as a keyword. Moreover, it's a keyword (and a specific topic) that we wouldn't have previously considered. Even better, it can work as a topic cluster. 'Customer experience tools to boost conversion' can be a subtopic and 'digital marketing tools' can be the main topic.
4. Use Google Analytics To Uncover What People Are Searching For On Your Site
If you've got a search bar on your website, your prospective customers will be using it to search for things.
But what if they're typing in queries you haven't got an answer for?
To uncover the terms people are typing into your search bar, you can use Google Analytics. Simply log in, and head over to 'Behaviour' before clicking 'Site Search.' Then, click 'Search Terms.'
Here, you will find a list of search queries users are entering on your site. These search queries are basically keywords that you can base future content around. Voila! You can now look for content gaps and fill them with fresh content.
5. Find The Keywords Your Competitors Are Using
In case you haven't 'spied' on your competitors, now's the time to do just that.
Spying on your competition to see what keywords they're using ensures you don't lose out in the rankings race. If they're optimising their content with keywords that are driving traffic, you can effectively steal their keyword ideas and produce better content than them.
To find out what keywords they're using, you first of all need to identify your biggest competitors. Then, copy their URL before opening up your Google Keyword Planner account. Click 'search for new keywords using a phrase, website or category' and then paste the URL. Then click 'get ideas.'
Here, you'll find a list of their keywords.
Before we finish, it's important to note that not every single keyword you uncover using any of the methods above will be useful. Some will work, some won't.
To make sure you're using the right keywords for content, ask yourself these questions:
Is a keyword relevant?
Is a keyword competitive?
Could I perhaps find a more niche keyword to target?
Can I find a keyword with a lower search volume, perhaps?
What is the intent behind this keyword?
Conclusion – Keyword ideas missing?
Keywords remain a vital part of SEO. Their value may have diminished slightly over the years, but without keywords, it's impossible to drive a healthy amount of organic traffic to your website.
Use the tips in this article to implement fresh keywords your customers are using, but also make sure that your content marketing game is on point, too. After all, what you want to do is drive traffic that converts.
About Binh An Nguyen
Founder & CEO of Market Ease Business Promotions, Binh An Nguyen has worked with, and advised, some of the largest national campaigns and biggest brands in Australia and around the world.
These companies include Hyundai Motor Company Australia, Subaru Australia, Etihad Stadium, yd., Tarocash, Connor, Cartridge World Australia, and the Australian Federal Government.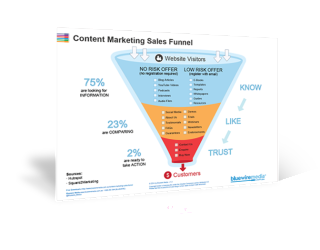 Content Marketing Sales Funnel
Your content marketing sales funnel is all about getting people to know, like and trust you by nurturing them with the right information at the right time.