Our kick in the backside
Updated on December 11th, 2017
Yesterday, I told you a story I didn't anticipate sharing. It involved a serious kick in the backside.
Our coach turned the tables on us and forced us address what we were going to achieve in 2018. And most uncomfortably he point-blank asked us if we'd been 'coasting' for the 3.5 years since our book was published. We didn't see it coming.
But it uncovered a truth.
We have been coasting…. Whilst we've refined our IP and whilst our body of work has reached many more people in these recent years, we certainly haven't knocked it out of the park with new material nor 'played to win' by setting goals that scared us.
That all changed in the course of a 2 hour call and a day of reflection.
Yesterday I shared two of the projects Toby and I have been thinking about and working on for years. You could say we've been 'sitting' on them. Our coach would say we've been procrastinating, waiting for the right time. (And you know where I am going with this, of course…. It never feels like the "right time").
Except that the "right time" is always before you feel ready and "right now" is usually your best bet.
Without the gentle nudge (aka kick in the proverbial backside), we may well have continued to coast. Our projects may have continued to gather dust or make mediocre progress for another 12 months. But not now. We've been kicked into gear and it's going to happen.
So now I'd like to hand it back over to you.
I'm normally quite softly-softly in my approach to guiding readers (you!) to the benefits of social media and digital marketing. My philosophy has been that I'll show you the path when you're 'ready' you could come on the journey.
aka "When the student is ready, the teacher is here."
Except I realise there is never the 'right time' when you are 'fully ready'.
After my own experience with our coach, and the impact his 'probing questions' had, I'm taking a leaf out of his book and asking you a few more pointed questions (if that's ok?)
Will you make 2018 the year to translate your existing business assets onto social media? By this I mean take your:
Subject matter expertise and IP
Professional network
Industry reputation
…and use them to stay "top-of-mind" and strengthen relationships to attract leads, referrals and clients? This is your golden opportunity to leverage the value you've spent your career building.
If not, are you coasting?
If not, what are you "leaving on the table" by putting this off till you'"feel ready"?
Does setting social media as a 2018 goal scare you enough to finally get it done properly?
That's enough 'pointed questions' for now.

You can start taking action by revisiting our free Marketing Tools Of The Trade Mini-Course.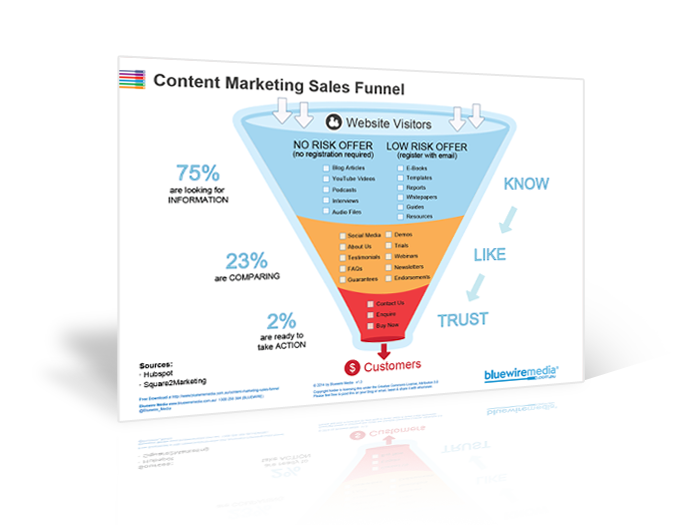 Content Marketing Sales Funnel
Your content marketing sales funnel is all about getting people to know, like and trust you by nurturing them with the right information at the right time.