Podcasting your way to $88,978 in month with John Lee Dumas
Updated on February 29th, 2020
John Lee Dumas aka JLD
John Lee Dumas took 15 minutes out of his day to share his advice on networking, podcasting, overcoming Imposter Syndrome and making money from a podcast.
Adam Franklin: Hello, viewers. It's Adam Franklin here from Bluewire Media. I have the very great pleasure of being joined by John Lee Dumas, the host of Entrepreneur on Fire, a hugely successful business podcast, and his accent and enthusiasm are the best I've come across. John, are you ready to ignite?
John Lee Dumas: I am prepared to burn this house down, Adam [laughs].
Adam Franklin: I am so pleased to hear it. Now, you burst onto the podcasting scene with your podcast, Entrepreneur on Fire, with one podcast every single day. What are your monthly downloads at, at the moment?
John Lee Dumas:  We generate 450,000 unique downloads every month. And that number just continues to grow Adam, because of our daily format. The snowball just keeps getting bigger.
Adam Franklin: That's phenomenal. Now, I've learnt from you that technology is not an excuse. All you need is one of these, a good quality mic, or the Blue Yeti mic, or the one that you've got in front of you there, a Skype call recorder or garage band, whatever you choose to use. Of course, we can all read about this in your book, 'Podcast Launch.' I don't want to go into necessarily the technology of it all, but the real hurdle obviously is not the technology, but the other hurdles that we're facing for people looking to get into podcasting but can't quite make that leap. Why did you get into podcasting?
Why podcasting?
John Lee Dumas:  So, I got into podcasting Adam, because I wanted to build a massive audience of passionate entrepreneurs who were looking to take their entrepreneurial leap. I'm not a writer, I never have been. I'd never been a broadcaster. I'd never taken communications. But I knew that I liked talking, and I found it easier to talk than to write. So, I decided, you know what? Blogging is kind of a red ocean strategy right now, because there's like a million blogs that go live every month, or something.
Podcasting was a little more blue ocean. It was just a little more of a barrier, not technological like you said, but just the mindset of actually getting behind a microphone and speaking to the world. I knew there was a little more of an open, blue water strategy, so I decided to dive into it and really bring people like yourself, Adam, who were a phenomenal past guest, on to Entrepreneur on Fire, to share their journeys, which are both inspiring and really passionate, for a multitude of reasons.
Overcoming the Imposter Syndrome
Adam Franklin: And what hurdles, if any, did you have to overcome in order to make the leap into podcasting?

John Lee Dumas:  The main hurdle was the imposter syndrome that every single person in the world has. I actually talk a lot about our President Obama, having the imposter syndrome, because he definitely does. He wakes up every single morning, he puts his tie on, and he says, 'Who am I to be leading the most powerful country in the world?' He has that imposter syndrome, like every single person does. And I had that as well, Adam. I was like, 'Who am I to be talking to people about being an entrepreneur, when I have had both failures and successes in the entrepreneurial journey.
But by no means was I Richard Branson or Mark Cuban. Why should they be listening to me?' So, that was a hurdle I had to get over. I did that really by just saying, 'You know what? I am just going to be a conduit for great guests like yourself, like Gary Vaynerchuk, like Tim Ferriss, to come on to my show and just through Entrepreneur on Fire, share their failures, their problems, their successes.' So, that's how I shifted my mindset, I kind of tricked myself, because I had a massive fear of failure. I had a massive Imposter Syndrome, but I was able to get over it with that little trick.
Adam Franklin: The imposter syndrome, I really like that idea because before our interview, we'd been having a bit of a chat, and about a minute before we went live I asked John how everything was going. And he said, 'Yeah, pretty good this week. I've interviewed got Tim Ferriss, Seth Godin and Chris Brogan. And we've had over 100,000 downloads this month.' All of a sudden I went, 'Oh, my God.' [laughs] And I felt like exactly that imposter joining such big names.
What I really like about your show is that you get the big names and then you get some more…I don't know what you call them, 'up and coming,' or 'unknown' type people as well. That mix is really great.
John Lee Dumas:  Under the radar.
Adam Franklin: Under the radar.
John Lee Dumas: [laughs]
Mentors and networking
Adam Franklin: That's a lovely way of putting it. But how did you go about approaching some of these big names before you had this online podcasting fame and this following?
John Lee Dumas:  So, fortunately for me Adam, I did do one thing right, amidst a lot of things wrong, when I first started, and that was I got a mentor, Jaime Tardy of the Eventual Millionaire, who is a very successful podcaster and had been for a number of years. And the first thing she told me to do was go down to a conference and just engage. So, fortunately for me, just two weeks after hiring her as my mentor, she was speaking at one of the biggest conferences in the U.S. on social media, which is called Blog World by New Media Expo.
So, I went down to New York City, I got my ticket, I went to this conference and I got to see these incredible entrepreneurs, these lifestyle by design entrepreneurs, speaking on stage about things that they were passionate about and about businesses that they had created. I was just in awe. And Jaime was one of those speakers. So because of that, I was able to go to the speakers' event after the actual conference was over. So there I was at a bar, drinking with the Pat Flynns and the Derek Halperns and the Corbett Barr of Think Traffic side by side, and I was able to look at them Adam, and say, 'Hey, guys. I was really admiring your presentation on stage. It was incredibly impressive. I'm actually starting a little venture called Entrepreneur on Fire. This is what I'm looking to do. Will you be one of my first guests?'
So, I went down to these conferences, Adam. I engaged with these great entrepreneurs. I looked them in the face, and thanked them for what they gave to me, which was a great presentation. And then was very genuine, and asked them to come on my show. I was sitting there right in front of them. It wasn't just a cold email, it wasn't anything along those lines, like a Tweet or a Facebook message; it was me standing there.
They could see that I was serious, and so I got my first few yes's from that engagement, from that interaction. Then I was able to utilise those names as I went forward, as social proof. And that just helps me get more and more guests on, as I continued forward.
Adam Franklin: I'm finding that more and more, that people are saying that the secret to online success is actually going offline, meeting face to face, pressing the flesh and really forming those important relationships in real life.
John Lee Dumas: Well, let me just break in there for one second, because it's such a great point. Back in the day Adam, the only place to meet people was face to face. That was the only opportunity we had. Now, people can hide behind Twitter, Facebook, any multitude of social media or email. And because of that, they do. And so the few people that step out from behind the computer screen and actually go out, it's actually now that it's such a rarity, it becomes even more valuable.
The people that do step from behind that computer screen and make the effort to go to these conferences and shake the hand of these great entrepreneurs, that is where relationships are formed.
Monetizing a podcast
Adam Franklin: Thank you. Now, podcasting is your business now. You've been going for over 12 months. And you've made a decision to publish your earnings on your blog, which I find tremendously admirable. Very confronting, I'm sure it had been at the start.
John Lee Dumas: My accountant doesn't think so [laughs].
Adam Franklin: [laughs] But I was just checking your online reports yesterday, $88,978 last month in profit. Tell us, where is this money coming from, and I guess, how big is the audience of people that have been coming, paid subscribers, or paid members of your products?
John Lee Dumas:  Sure. I absolutely just wanted to take that transparent approach Adam, because I saw people in my industry like Pat Flynn publishing income reports. And what he does, which is passive income for businesses. I was like, 'I want to do that for the podcasting world.' People love Pat for his transparency, so why can't I do that for podcasting? So, I started publishing it just last month. Now, we have two income reports published. We started on our one year anniversary. And anybody that really wants to get the details, I actually even have a podcast where I read the income report as well. So, you can get it via audio or via our blog at EOFire.com/income. And that will take you right to our income reports. But just really quickly, over this interview here, we make about $40,000-ish per month on sponsorships. That's a big, huge part of our revenue for Entrepreneur on Fire. We just…
Sponsorships
Adam Franklin: Just to clarify for our viewers, so 'sponsors', is that people that are paying to have their names mentioned throughout your show, and paying to appear on your blog?
John Lee Dumas:  Absolutely. It's just sponsors who are paying to sponsor Entrepreneur on Fire episodes. For instance, I have Carbonite, who does online back up for computers. So, they will sponsor Entrepreneur on Fire, so they'll get a 15 second what's called a pre-roll, and then a 60 second mid-roll, where it will be me, the host, talking about their product, why I like it, why entrepreneurs should utilise it, and maybe a story of a time that it really helped me. So, they'll pay per episode that they're sponsoring. And that breaks out to about $1,200 to $1,500 per episode that I'm generating with my sponsors.
If you multiply that by 30, that's where we got to I think in the month of October, we brought in just under $40,000. I think it was $39,400 and change revenue through sponsorships. We also just launched Podcasters' Paradise, which is a community to create, grow and monetise your podcasts. Because one thing Adam, that you learn when you actually grow an audience that you have, and that I'm currently doing at Entrepreneur on Fire, is
that they tell you what they need.
My audience is telling me that they needed a place to learn how to podcast, a place to interact with other podcasters, and a place to learn from today's top podcasters. So, we created, because of those emails that
we got, because of those pain points that our listeners were having, that our audience has, we created Podcasters' Paradise, which is exactly that. It's a community with video tutorials, with a community forum, and with monthly webinars with today's top podcasters.
In the month of October, we actually launched October 31st, but in the month of October during the pre-launch, we raised over $35,000 a week. We generated over $35,000 in pre- launch sales, and then as we sit right now, we actually have over 200 lifetime members within Podcasters' Paradise, and over $55,000 in total revenue. And that all came, Adam, from what our audience, what our listeners, were telling us they needed, and then we just created it.
So, those are two of our really major income streams. And then we have a bunch of other small ones, which I do get into detail on in the income reports. But that's the beauty of building a large audience is, they tell you what they need, and you can develop multiple strings of income to really diversify.
2014?
Adam Franklin: And finally John, what's the plan for 2014?
John Lee Dumas:  World domination [laughs]. I want to come to Australia in 2014. I was actually asked to come and speak at Fast Web Formula that James Schramko was putting on, which I would love to do. It's just unfortunately, not going to work out timing for me, because I'm speaking in the Philippines during that month, and then again back here in San Diego.
The timing just didn't work out. But I actually, and I'm not just saying this because you're Australian, and I'm sure a lot of your audience is, but Australia, New Zealand, it's a part of the world I've never travelled to. I've done South East Asia, I've done Central America, I've done a lot of the world, I've done the Middle East as an officer in the army, but I've never done that part of the world.
I'd love to get out there. I have a really disproportionate number of my past guests who are Australian, because you guys are just such wonderful entrepreneurs, with the phenomenal entrepreneurial mindset. But I just need to get over there and really see for myself what's in the water that you guys are drinking, because I need some of that.
Adam Franklin: That's a great rap for Australians, thanks.
John Lee Dumas:  It's true.
Adam Franklin: We run a couple of events, so hopefully the timing can work out for you to get you over, as well.
John Lee Dumas: I'd love to.
Connect with John
Adam Franklin: Now, where can everyone go to find out more about yourself and your amazing podcast?
John Lee Dumas:  Our headquarters is EOFire.com. It's really simple, that's where we have everything that goes on. All of our podcasts, show notes, all of our blog entries, our income reports, our recommended resources. If you're on
iTunes or Stitcher or whatever you are for a podcast listener, you could just type in either my name, John Lee Dumas or Entreprenuer On Fire, and you will get to the podcast.
Adam Franklin: Thank you very much for all your time and input today. Thanks on behalf of our views and thanks on behalf of the Australian members of Fire nation. It's been an absolute pleasure, John.
John Lee Dumas:  Thanks, Adam. I love you guys.
Adam Franklin:Thank you.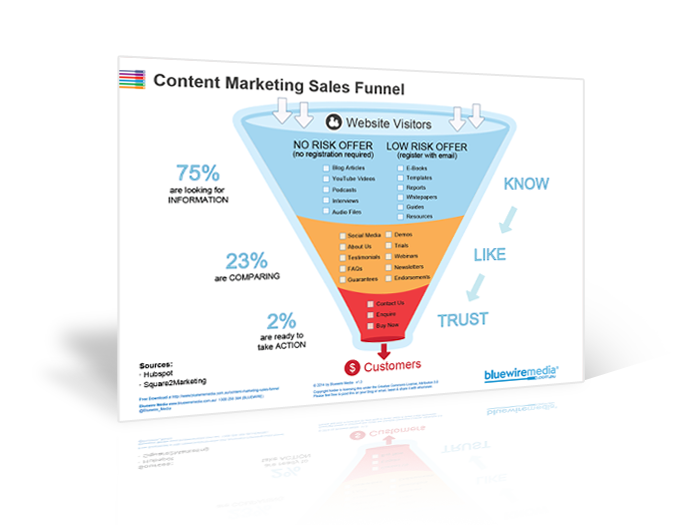 Content Marketing Sales Funnel
Your content marketing sales funnel is all about getting people to know, like and trust you by nurturing them with the right information at the right time.