Silicon Valley, Chicago, New York: what's coming in online business
Updated on November 12th, 2015
Bluewire clients James Price and Jeremy Frew from JPAbusiness recently travelled to Silicon Valley, the home of the digital marketing moguls, to
gain insight into how trends and changes in the online world are likely to impact business.
As specialist business advisors and transaction brokers, they met with technology 'incubators', venture capitalists and senior business leaders in Silicon Valley, as well as Chicago and New York.
I asked Jeremy to share some of what they discovered on their trip – about what's coming and how it will change the way we all do business.
Enter Jeremy…
What trends did you discover?
Much of the work we saw was focused on turning the World Wide Web into a 'local web' that will allow you to market within a set radius of your business or to a demographic of target customers.
The other developments were on the payment side. For instance, we saw technology for smartphones that allows your plumber to fix your tap, then take card payment immediately using a small magnetic strip reader plugged into the headphone jack of his phone.
Technology researchers Gartner have forecast the value of mobile transactions such as these to reach US$235.4b worldwide in 2013, a 44% increase on 2012. They're also predicting a market worth US$721 billion with more than 450 million users by 2017.
We also learned about near field communication (NFC), of which Google is a major proponent through its Google Wallet, along with other providers such as VeriFone. While Gartner reports that uptake of this technology has been slower than expected, it is predicted to take off after 2016.
What can businesses expect from these digital marketing advances?
One of key things most businesses, including us, struggle with is 'who and where are you marketing to?' With current online and mobile technology it has been a bit scattergun. So for small businesses we see the trend towards technology that allows 'radial and local' marketing online. For example, serving up an advert to someone's mobile device that is within 200m of your store. That technology already exists, but what we saw was taking it to the next level. It could identify someone sitting in a café 500m from your store who previously bought from you last month. While surfing Google on their mobile device they're provided with a screen or landing page or banner that says: "You bought XYZ from my store two weeks ago, just letting you know we've got 50 per cent off that product now."
What can customers expect from digital marketing advances?
According to the NAB Online Retail Sales Index, Australian online retail spending was equivalent to 6.3% of the traditional retail sector in 2012-13, up from 5.3% in 2011-12. As online sales rise there is a lot of talk about how people now use retail stores as fitting rooms, then go and buy online. Customers can expect to see a trend towards exactly that, and this is likely to have significant impacts on small and mid-sized businesses as they compete for customers. With new scanning and payment technology, you will be able to walk in, try on your preferred size or colour, then use your mobile to scan, order and pay for the item. Retailers will hold warehouse rather than shopfront stock and customers won't have to talk to anyone if they don't want to!
How can businesses make the most of these digital advances?
As business advisers to many small and medium-sized businesses, a key area of focus is helping our clients answer the following questions:
What business strategies should I have to leverage online activities?
How does online fit in my business model?
What do I need to do to make it happen?
In our view it's critical to develop a clear set of online requirements. We often manage a rigorous process to identify the most suitable partner for the business to get online or improve their visibility online, and we have assisted as project managers for the delivery of websites on many occasions. As Bluewire customers we recognise the value of a credible partner with online expertise. [Thanks Jeremy!]
5 key tips for leveraging online technologies in your business:
1)    Be online – you have to be there. More and more shoppers are doing localised, online research now – you can't rely on them to just turn up at your door. Even if you don't sell your product or service online, you have to provide enough clear information to encourage people to pick up the phone, visit or inquire. 2)    Research your competitors and their online presence, constantly. 3)    Invest in your website and in quality content – a $299 website is not going to cut it for the long term. Concentrate on your website as much as you would on any other form of marketing, if not more. If you do use traditional marketing, make sure your advertisements contains your website address because people will want to research you before they make a purchase decision or direct inquiry. 4)    Get help from professionals who can assist with your online business strategy and keep you up to date on developments across the suite of social media and online marketing offerings. 5)    Introduce your customers to your website and social media platforms – get every customer into your database and onto your website, and start interacting on information and issues that are relevant and valuable.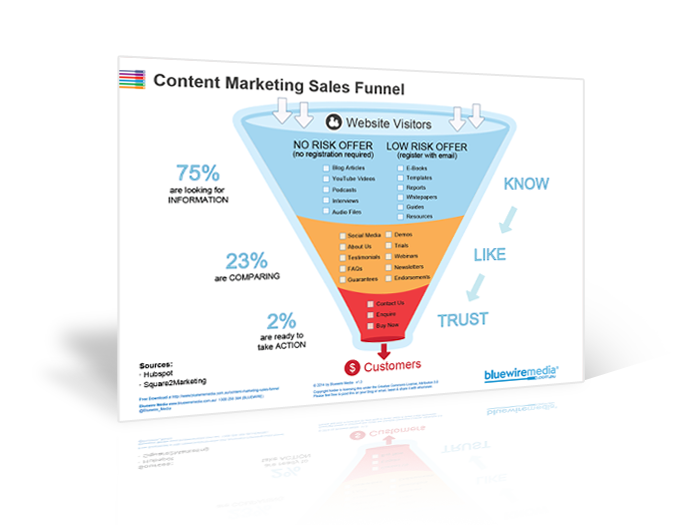 Content Marketing Sales Funnel
Your content marketing sales funnel is all about getting people to know, like and trust you by nurturing them with the right information at the right time.