The #1 Question To Ask For Your Social Media Policy
Updated on June 15th, 2016
If you're looking for legal advice about social media then Vivienne Storey, General Manager at Blands Law, is a great person to ask.
Why? She uses it. (The first time I met her she confessed she was a twitter addict! You can follow her on twitter @mysocialpolicy or read her blog: My Social Media Lawyer.)
Particularly when trying to convince CEOs, we are frequently asked about the legalities of social media policies so I asked her to write a guest post to address just that.
Enter Vivienne…
+++++++
Have you thought about the real purpose of taking the time and effort to write and implement a social media policy in your organisation?
There are many answers to "why have a social media policy at all?" and the main ones usually revolve around risk management issues such as:
How do I protect my brand?
How do I protect confidential or sensitive information?
How do I hand over "control" of my message?
How do I manage productivity?
How do I address privacy concerns?
These are all highly valid questions that can and should be addressed in a social media policy (along with a whole host of other risk management issues) but there is one main function a social media policy should address and that is:
"How do I enable my organisation to communicate in "real time" without having to wait for approval from the marketing/comms or legal team?"
Policy making
A social media policy should in effect be a pre-approval document for employees in your organisation to have a real time dialogue on the internet, whether it's via twitter, blogging, Facebook or responding to comments. Imagine the power of unleashing all of your interested employees as marketers on your behalf, safe in the knowledge that they are following well thought out guidelines and processes? Imagine.
Throughout the process of writing a social media policy, this should be your single goal; "Am I enabling the organisation to engage on-line without having to ask "Am I doing the right thing?", "Am I breaking any rules?"".
Examples
If you look at companies that are "doing" social media well, this is exactly the approach they have taken. Companies such as Coca-Cola and Deloitte have developed and implemented clear, well thought out, policies that encourage real time online engagement. And how successful they have been!
Content
Content is so time sensitive that you simply cannot afford to be waiting around arguing over whether certain pieces should be published by certain people. If you have to wait days to get agreement over publishing, the content is probably passé; relevancy and opportunity long gone.
Have these arguments while you're developing your policy; dispute, wrangle and wrestle your way through the content of the policy always keeping that key question in mind; "Does this enable my organisation to engage in real time, on-line?" It's worth having that intense debate during the development of your social media policy so that once it's complete you can hand over to the organisation and say "go for it"
As Nike say "just do it".
Note from Vivienne: Thank you to David Meerman Scott for the "real time" reference via his book, Real-Time Marketing & PR, and the inspiration for this blog.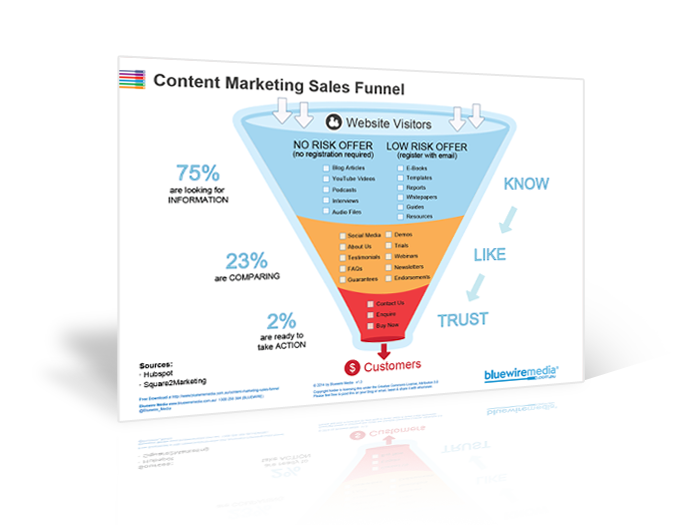 Content Marketing Sales Funnel
Your content marketing sales funnel is all about getting people to know, like and trust you by nurturing them with the right information at the right time.