The Power of Less – Inbox=0 in Minutes, To Do Lists, Important Work Done
Updated on October 6th, 2019
I've been inspired by Leo Babauta's book The Power of Less to reorganise my organising :-).
There are a ton of lessons in the book, but I wanted to share how I've put some of his ideas into immediate effect.
Most Important Tasks
One of the key concepts in the book is MITs – Most Important Tasks. I've already blogged about how I plan these each morning. The idea is that you choose 2 or maximum 3 things that you must get done that day.
I like to use Tim Ferriss' approach for figuring out my MITs:
Once I've chosen my MITs, I then add any other thoughts or tasks I've remembered to do to my Trello account.  The reason I chose Trello was that I wanted to access synced to do lists (based on Leo's ideas) on my laptop and phone really easily. So far so good.
To do lists:
When I finished TPOL, I set up one list of todos for Work and one for Personal (Leo suggests only having 1 but this is my starting point):
With these to do lists set up, I'm then free to add tasks and to process my Inbox to zero without forgetting anything by transferring emails to my task list.
Inbox = 0 in minutes
My assistant Abbey, reviews my emails each morning and organises all meetings for me.
I use Gmail, so anything she thinks I need to see, she stars and then archives so that when I do get to email after I've completed my MITs, this is what it looks like. It makes me feel good every time.
When I'm ready to process my emails, I go straight to my Starred label in Gmail and then try to be brutal about processing all emails to 1 of 3 outcomes:
Archive
Action immediately (if it will take less than 2 minutes)
Added to my to do list for focus later on
This process really only takes a few minutes depending on the volume of emails.
When a particular email needs to be referenced, I add the link into the to do item so I can get back to it easily.
Now that my email has been processed, I have all of my todos in either my work or personal to do lists or added to my Batch Processing Tasks…
Batch Processing Tasks
Leo defines batch processing tasks as things like processing emails and phone calls.
Here's my Batch tasks list in Trello:
When I remember a phone call I need to make, I add it to my list in Trello. Then, when I'm ready to make calls, I'll open up the list and work my way through them.
Important Work Done
By following this process, I've found I'm getting my important work done much more reliably than ever before. This is how I've started to use Leo's minimalist system for productivity.
Massive hat tip to Leo for sharing his process and I hope you find my application of it useful.
Is there anything else you do or a situation you think this might not work in? How might you deal with it instead? Let me know in the comments.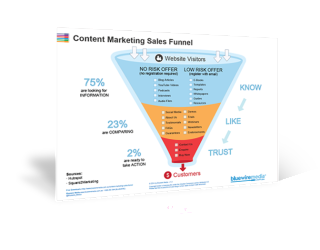 Content Marketing Sales Funnel
Your content marketing sales funnel is all about getting people to know, like and trust you by nurturing them with the right information at the right time.