The problem with LinkedIn marketing (and Josh Turner's answer)
Updated on May 2nd, 2016
Many of us want to know the ROI of social media before we get involved…. but often what we are really saying is:
"Social media is new and scary and I'm not ready to step out of my comfort zone yet."
It's easier to dismiss it and say:
"I'm not convinced social media will work for me…. I'm an engineer, I'm a financial advisor, I'm a lawyer."
But I don't accept that.
Why?
Because social networks are immense databases of virtually every single human being on the planet. If your job or business involves people, then social media can and will work for you.
Think back 10 years… and imagine if someone said you could access a database of millions of professionals, and search through them based on location, job title, work history and interests, and then you could connect with any of them — for free?
It's phenomenal to think that we now have that level of access at our fingertips!
It's called LinkedIn.
But there is a problem with LinkedIn…
What many of us lack is a system to connect with people, develop relationships and win business. LinkedIn is holding up its end of the bargain by giving us access to any professional on the planet, for free.
It's now up to us to make good on our end of the deal which is to use social media effectively for business.
The answer…
If you want an ROI (and you definitely should), then you need a process to follow and a system for implementing it. Today I have a special guest to teach you how to use LinkedIn…
His name is Josh Turner the author of the brand new Amazon #1 best seller CONNECT: The Secret LinkedIn Playbook To Generate Leads, Build Relationships, And Dramatically Increase Your Sales.
In today's podcast episode, Josh uncovers some super strategies for using LinkedIn to generate leads and sales for businesses.
Listen to Ep 084: Josh Turner author of Connect

"Relationship building is the best path to take." ~Josh Turner (tweet this)
Some nuggets of wisdom from the podcast include:
Be active in LinkedIn groups (and strategic in which ones you participate in)
Start your own LinkedIn group
Survey a LinkedIn group and then feature those people in a blog post.

I've also just finished reading an advanced copy of Josh Turner's book Connect, and it's excellent.
My key take-aways from Connect:
Build authority and grow your network via LinkedIn
Start your own LinkedIn Group and invite prospective customers (it is a much easier starting point, more affordable and more guaranteed than traveling to speak at conferences, sponsor conferences, writing a book, etc).
Start doing educational webinars because they scale. For high ticket items, 1-on-1 sales meetings should only be with red-hot prospects not every man and his dog. So use webinars to qualify prospects.
If you sell lower ticket items (under $1000) use webinars to educate and then make a commercial offer at the end.
What to do next:
Firstly listen to Josh's chat with me on the podcast. Then order his book Connect on Kindle. If you send Josh your receipt he'll give you access to his LinkedIn Marketing Plan worth $197.
I've ordered my Kindle version and have been through Josh's bonus marketing program. It's well worth it.
Follow the instructions here.
That's it from me. If you have any feedback, please leave a comment.
PS.Subscribe
If you liked this post you can subscribe here and join 18,400 fellow marketers who receive these posts via the Bluewire News. I'll also send you the 33 free marketing templates from our book.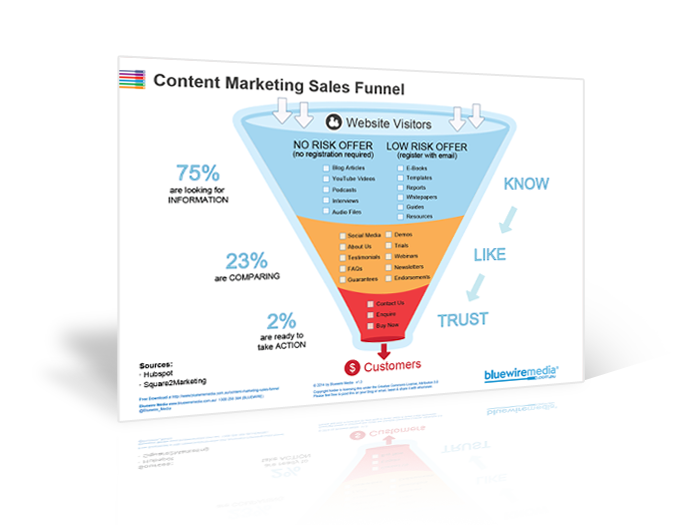 Content Marketing Sales Funnel
Your content marketing sales funnel is all about getting people to know, like and trust you by nurturing them with the right information at the right time.