Unstoppable Referrals by Steve Gordon [book review]
I've just read Steven Gordon's book Unstoppable Referrals: 10x Referrals Half the Effort so it's time to review it.
Here's my short video review and a written review beneath it.
Book Review
Traditional referral model is flawed
Steve acknowledges that the traditional referral model, whilst it can be effective, is an incredibly uncomfortable one (which means it rarely gets implemented). It simply goes like this, "ask happy customers for referrals." But it is severely flawed and here's why.
If I have a great experience with a vendor, say my insurance guy, he asks me to refer him to a friend who may also benefit from his services.  This is flawed because it puts me under pressure to 'dob someone in' for what is essentially a sales call.  Plus it puts my friend in the position where he is under implicit sales pressure — he must either reject the sales offer and risk offending me and my vendor, or walk away with a lighter wallet.  Not a pleasant position.
Any business owner is conscious of the uncomfortable position we put people in by asking them for referrals, so we don't do it.  And fair enough too.
[Side note:  back in my university days, we were well aware that many gyms and multi-level marketers would solicit uni students to nominate a friend for the "opportunity" of a sales call. My friends and I took great delight in stitching each other up by offering up our mates' cell phone numbers and saying how great a fit they'd be.  Of course dobbing mates in for sales calls made you a target too, so we all became quite skilled at crafting stories to reject the subsequent sales call!]
I digress…  there is a much better approach to business referrals.
The better way
Create an educational "referral kit" that people can give to their friends for free, that includes no contact with you (the seller).  This eliminate any sales pressure because they are not being asked to meet with you, and it makes you easy to refer because people can now able to 'help' their friends, not 'dob' them in for sales call.  Then once a prospect has consumed your valuable material they are then in the position where they can contact you.  A much more pleasant and effective referral approach.
In my own book I refer to a similar concept of "flagship content". You publish remarkable and valuable information that people can access and share for free, so they can get to know you without being on the receiving end of any sales pressure. The right customers are attracted to you and are free to engage you on their terms.
Review: 5 out of 5
It was a nice and concise book with a powerful message. Plus it aligned very nicely with my own philosophy.

Buy the book Unstoppable Referrals on Amazon.
Connect with Steve Gordon
I also enjoy getting Steve's daily email "dispatch" which is read by 1000s of CEOs all over world.
You can subscribe here at Steve's website Unstoppable CEO.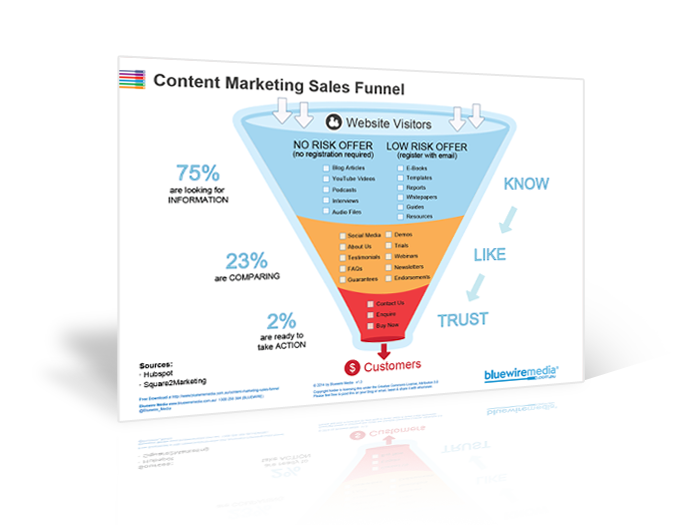 Content Marketing Sales Funnel
Your content marketing sales funnel is all about getting people to know, like and trust you by nurturing them with the right information at the right time.