Videos allow people to know you before you meet them [#43]
Updated on May 16th, 2019
[Adelaide Airport, South Australia]
Videos can be such an easy and powerful way for people get to know you, before you get to meet them!
VIDEO
TRANSCRIPT
G'day, it's Adam Franklin. Whilst it looks like I'm camping, in fact camping in the Flinders Ranges. Obviously, not that exciting. Just at the airport. I'm flying home from Adelaide, where I did my Digital Marketing Accelerator Workshop today.
One interesting thing that I want to share with you is that a number of attendees commented that whilst it was the first time we'd met in person, they felt like they knew me already because of the videos that I've been sharing on LinkedIn, Facebook, and YouTube.
If you want to allow people to get to know you, and hopefully like you and trust you before you meet in person, please consider doing videos. Just on your phone, just even with your ear buds in like I'm doing now, it doesn't have to be polished or perfect, but it does allow people to get to know you.
I hope that helps. I'm going to board my flight. I'll see you on the next video. Take care.
100 videos in 100 days. Want more?
This is part of my 100 videos in 100 days challenge.
For all my videos, join my Facebook page
For more videos and tip, let's connect on LinkedIn:
Or subscribe via my website and download my popular Web Strategy Planning Template.
PS. When you're ready, here are 5 ways we can help you grow:
1. Web Strategy Planning Template (PDF). Our flagship 1-page tool we co-created with David Meerman Scott. It's been downloaded over 1 million times and featured on Forbes.
2. Read a free chapter from our book: Web Marketing That Works --- an Amazon #1 best seller.
3. Join my private invitation-only group on Facebook. It's a great place to get to know us better and hang out with peers.
4. Watch my pitch-free 'LinkedIn Masterclass' on optimising your profile, building your network and growing your B2B pipeline on LinkedIn.
5. Work directly with me. Book a LinkedIn Growth Session and we can explore how you can use LinkedIn to grow a pipeline of high-value B2B clients.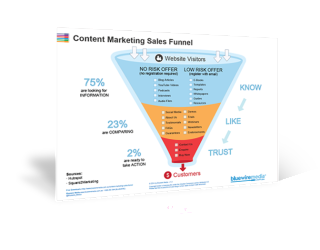 Content Marketing Sales Funnel
Your content marketing sales funnel is all about getting people to know, like and trust you by nurturing them with the right information at the right time.