WMTW 005: Our SEO journey from invisible to No.1 with a surprising twist [podcast]
Podcast: Play in new window | Download
Subscribe: RSS
Updated on January 17th, 2017
[soundcloud url="https://api.soundcloud.com/tracks/155178097″ params="color=0066cc&auto_play=false&hide_related=false&show_artwork=true&show_comments=true&show_user=true&show_reposts=false" width="100%" height="166″ iframe="true" /]
Show notes and highlights
Embarrassingly, back in the day (2005) we were totally invisible on Google.  Then we went on an SEO journey that took us to No.1 within 6 months.
Thanks to Googling "SEO" we discovered a fellow Aussie Glenn Murray who was the guiding light when it came to SEO for non-techies like us.
His e-book that we read and implemented that was our bible for getting to Number 1 on Google for "Web Design Brisbane".
Tools and resources
Why weren't we getting the right clients?
We were chasing the wrong keywords.  "Web Design Brisbane" was delivering tyre-kickers. Then we discovered that our best clients had discovered us by searching for "social media speaker".
Here is the SEO Planning Template
Google looks at your website for its content and authority.  To dominate search results you need to do keyword research, on-page SEO and off-page SEO. This template teaches you how. Download your own copy or just check out the Slideshare.
Did you like this show?
Please click to tweet the show to your friends on Twitter >>.
And we'd love it if you left us a review on via iTunes (once this podcast gets approved!)
Thanks.
Bonus 33 Free Templates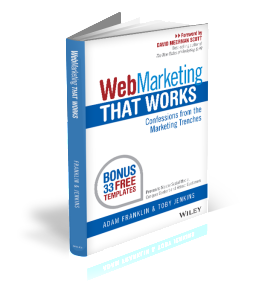 This podcast is brought to you by our new book Web Marketing That Works. You can download the bonus 33 free templates (11.2 MB – zip file).
Read the free, 28 page sample chapter (948 KB – PDF)
Or order the book online: Web Marketing That Works: Confessions from the Marketing Trenches (Wiley 2014).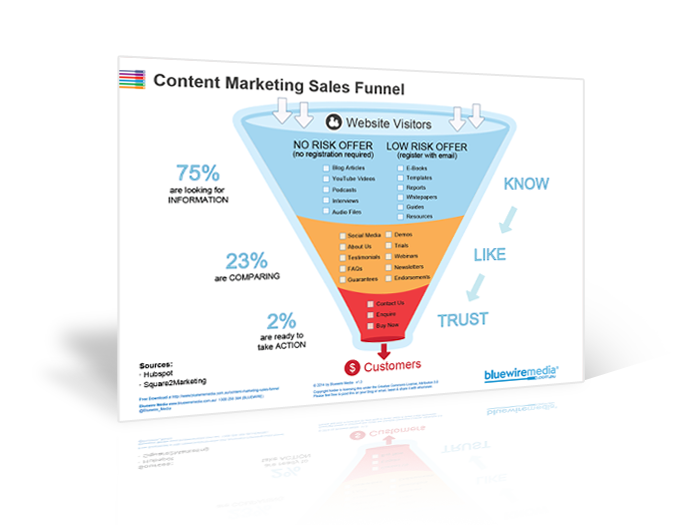 Content Marketing Sales Funnel
Your content marketing sales funnel is all about getting people to know, like and trust you by nurturing them with the right information at the right time.