WMTW 035: Facebook Marketing in 5 Minutes a Day [podcast]
Podcast: Play in new window | Download
Subscribe: RSS
Updated on February 20th, 2015
Show notes
Adam talks you through an simple Facebook marketing plan that takes 5 minutes a day.
Firstly…
Its very hard to get traction since Facebook is now a public company and needs to monetize the social network. As little as 10-20 per cent of your content on your business page is shown to your fans. This podcast teaches you what you need to do to maximise what is shown to your fans (for free).
Secondly
It's recommended to drive people to your home base (ie. your blog and email list)
No money
Also, this strategy requires no money, only 5 minutes a day. Of course you can choose to boost posts by paying Facebook, but that's not been what I've chosen to do.
Facebook strategy
Beginner:
Respond to message and notifications – 2 mins
Post some content (blog, photos) – 3 mins
Intermediate
Post premium content (to nurture people over to email) – 2 mins
Interact and share content – 3 mins
Advanced
Check Insights to see what content is popular with your fans and create more of it! – 5mins
Templates
Facebook 5 Minute Daily Plan (free download)
Subscribe
We would love you to subscribe to Web Marketing That Works via:
Stitcher radio
iTunes
SoundCloud

Bonus 33 Free Templates
Download the 33 free templates (11.2 MB – zip file) from our new book.
Or order the book online: Web Marketing That Works: Confessions from the Marketing Trenches (Wiley 2014).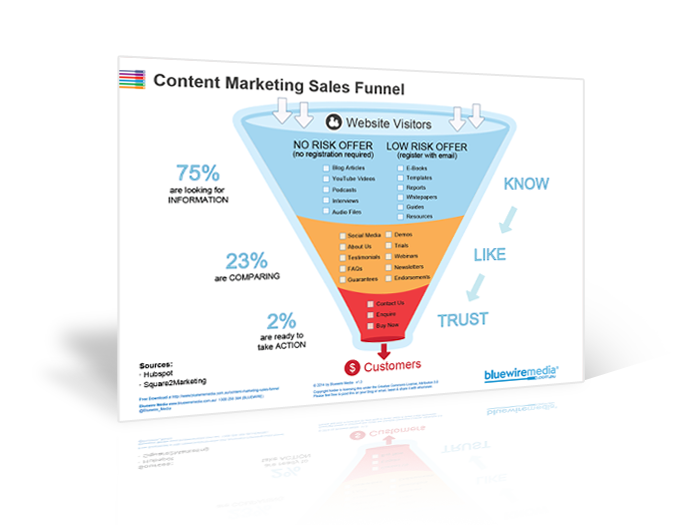 Content Marketing Sales Funnel
Your content marketing sales funnel is all about getting people to know, like and trust you by nurturing them with the right information at the right time.