WMTW 131: Aaron Fifield from Chat with Traders [Podcast]
Podcast: Play in new window | Download
Subscribe: RSS
Updated on January 4th, 2017
"I'd rather over deliver than under deliver." Aaron Fifield (Tweet this)
In this episode I chat to Aaron Fifield about his success on Trading and Podcasting.
Show-notes:
Key points
Aaron is the host of the podcast "Chat with Traders". 
He started the podcast out of "frustration".
Main motivation on the podcast is to expand his network.
Sponsorship is the main revenue.
Measure the total number of downloads within the first 6 weeks.
Affiliate links do not interest Aaron.
Engagement with the audience increases your reach.
Be consistent.
Get a good mix of guests.
Traffic to their website comes heavily from their Twitter account.
Find a platform where your audience are and work on it.
Always try to produce better content and serve your audience.
Links mentioned
Get in touch with Aaron
Did you like this podcast?
If you liked this podcast, please click to tweet this show >>
Subscribe
We would love you to subscribe to Web Marketing That Works and please leave your honest reviews via:
Stitcher radio
iTunes
SoundCloud
Bonus 33 Free Templates
Download the 33 free templates from our new book.
Or order the book online: Web Marketing That Works: Confessions from the Marketing Trenches (Wiley 2014).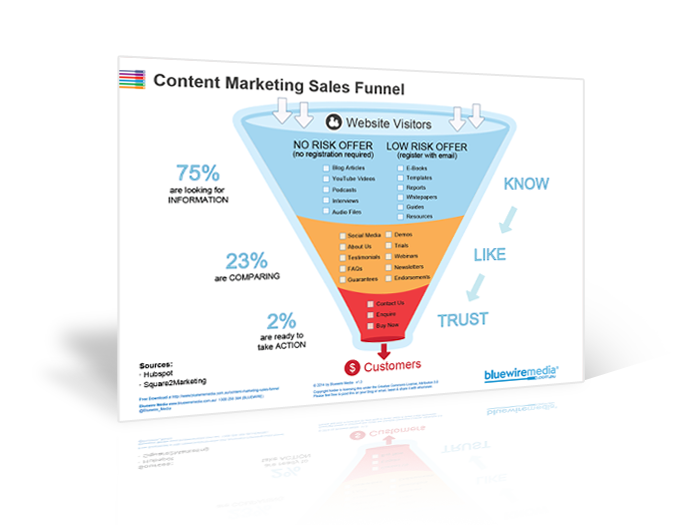 Content Marketing Sales Funnel
Your content marketing sales funnel is all about getting people to know, like and trust you by nurturing them with the right information at the right time.