Google Launches GoMo – A Service To Help You Take Your Website Mobile
Updated on September 22nd, 2019
2019 Update: What Happened to Google's GoMo?
It's no secret. The internet is going mobile.
Depending on where you're getting your stats from, internet enabled mobile devices will outnumber desktop devices as early as 2013.
Google, of course, knows this (because Google knows everything), and they've launched a simple tool to help you evaluate your current website's mobile friendliness, and what you should do to make it more accessible to mobile users. The tool is called GoMo, and it shows you what your website will look like on a smartphone, then gives recommendations as to how you can make it more mobile friendly.
Regardless of Google's end goal (they want to sell more mobile ads), they're right about one thing: you're going to need a mobile optimised website very soon, or you may start losing potential customers who would rather find an easier-to-use website than deal with your mobile-unfriendly one. Here's a short video Google released with the launch of their app.
Basically, now that mobile use is exploding, the arguments for having a mobile optimised website are the same as what the arguments for good usability have been for the past 10 years:
If your website isn't usable on a mobile device, there are plenty of alternatives that ARE usable, and you're sure to lose traffic to those alternatives.
Less usable websites will have a lower conversion rate, so you need to make sure that it's easy for mobile users to accomplish what you want them to accomplish.
Did you test your website in GoMo? How did it perform?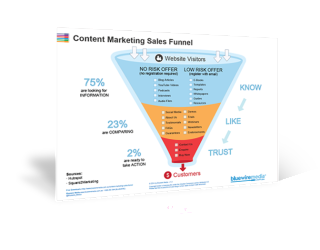 Content Marketing Sales Funnel
Your content marketing sales funnel is all about getting people to know, like and trust you by nurturing them with the right information at the right time.