Influencer Marketing Myths: Debunking the 5 Most Common Ones
Updated on July 6th, 2020
Influencer Marketing Myths
Influencer marketing isn't just an outlier strategy anymore.
It's quickly winning the vote of confidence from marketers. In fact, 60% of marketers said that they ran 1-5 influencer campaigns in 2019. Furthermore, 16% of them had a campaign that was always-on.
By collaborating with influencers, you can boost your sales, online visibility, and brand awareness. If you are not leveraging it yet, it's time to jump in on the trend.
Skeptical about it?
There are a lot of myths around influencer marketing floating around. If that is what's stopping you, it's time to clear up the misconceptions.
Busting Influencer Marketing Myths
Some of the myths around influencer marketing may be partly true or may have some truth to them. Let's separate the wheat from the chaff and find out the actual truth.
Influencer Marketing Myth #1: Influencer Marketing Requires a Big Budget
Well, it's true that collaborating with big-ticket celebrities and influencers may cost a lot of money. In fact, according to a report, Kim Kardashian is estimated to earn $858,000 per sponsored post. But that's only part of the story.
The truth is that, along with high-tier influencers, micro- and nano-influencers also form an integral part of the industry. These influencers may not have millions of followers, but they typically do have an engaged audience in their niche.
Even with a smaller budget, you can reach out to them and negotiate for a deal that works for both parties involved. In fact, influencers who are just getting started in the industry may even agree to work for some freebies or access to exclusive events.
You just need to figure out how valuable the influencer is for you and then extend a favorable deal accordingly.
Influencer Marketing Myth #2: Influencer Marketing Is Mainly For Instagram
Instagram is full of influencers in fashion, beauty, technology, gaming, and other niches. While it's a popular platform for influencer marketing, it's not the only one. YouTube, Pinterest, Twitch, Twitter, LinkedIn, and other social media platforms also have active influencer communities.
While selecting a platform for influencer marketing, you should check out which channels your target audience mainly spends their time on. For instance, if your audience consists mainly of gamers, Twitch might be a more relevant platform for you than Instagram.
What's more, if you look beyond Instagram, you can experiment with long-form videos as well. On Twitch and YouTube, influencers can create longer duration videos.
On Pinterest, you can share an infographic or a blog post to boost your brand awareness. Each social media platform enables you to win over your audience with a different content format.
Influencer Marketing Myth #3: Influencer Marketing Is a Waste of Money
As we discussed earlier, many marketers are investing in influencer marketing. If it was in fact a waste of money, it wouldn't have so many takers.
Plus, the ROI from influencer marketing is comparable or better than other marketing channels, say 89% of marketers.
However, the success of your influencer marketing strategy totally depends on how well you execute your campaigns.
To win at influencer marketing, make sure you focus on authenticity, transparency, and relevance.
It's also important to establish key metrics from the beginning of the campaign. Whether your goal is to boost engagement, reach, or sales, make sure that you are communicating it clearly with the influencers.
Additionally, it's important to track key metrics throughout the campaign. You can leverage social media tools to measure how your campaign fared up.
Influencer Marketing Myth #4: Influencer Marketing Is All Fraud
Many influencers buy fake followers or join engagement pods to create an illusion of their reach and influence online. Undoubtedly, influencer fraud is a big concern for brands. If you are collaborating with influencers, it's natural for you to be wary of any potential fraud.
While it does happen, there are many genuine influencers out there who have built their authority based on their content. Influencers who strive to create a good rapport with their audience through authentic content are the ones you want to partner with.
To avoid getting taken advantage of, it's a good idea to invest time in influencer discovery and research. Do not rush the vetting process.
Keep an eye on the influencer's follower count as well as their engagement rate. Ideally, these two metrics go hand in hand. If you find that their posts do not get many likes and comments despite having a high follower count, there could be foul play.
You can also leverage influencer marketing platforms to get more information about an influencer and their audience. Some advanced platforms provide reports that mention the percentage of fake followers that an influencer may have.
Influencer Marketing Myth #5: Influencer Marketing Is Mainly Suitable For Lifestyle Brands
Everyone knows that beauty, fashion, and travel brands are big on influencer marketing. While they thrive with influencer marketing, B2B brands shouldn't miss out. Influencer marketing can help them grow their business as well.
The only prerequisite to creating a successful influencer campaign — B2B or B2C — is partnering with the right influencer.
For example, if you have a SaaS product, find an influencer in the technology niche. They could write a review for your product or explain how your software works in a video. Such influencer content can help you educate your target audience and boost your brand awareness.
Take some inspiration from Cisco's influencer marketing program. They refer to their community of IT advocates or influencers as "Cisco Champions." They share their knowledge about Cisco products across social media platforms.
In return, they give incentives to these influencers for promoting them. They also get invitations to exclusive events and their podcast shows. It's a great way to reach out to your audience online.
Final Thoughts
Influencer marketing can help you take your visibility and sales to the next level. Don't let any myths or misconceptions hold you back from leveraging this strategy. What are you waiting for? Get started with influencer marketing to grow your business now.
Are there any other influencer marketing myths that you would like addressed? Please
Please mention them in the comments section.
About Dawn Bowman
Dawn Bowman is the Managing Editor for Shane Barker Consulting. She was previously the Managing Editor at KillerStartups, and Startups.com.
In her spare time, she writes short stories and song lyrics.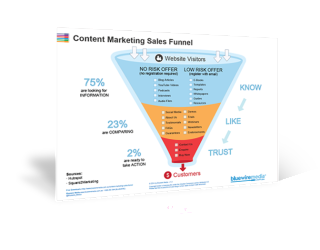 Content Marketing Sales Funnel
Your content marketing sales funnel is all about getting people to know, like and trust you by nurturing them with the right information at the right time.