Instagram 5 Minute Marketing Plan Infographic
Updated on March 25th, 2020
Instagram marketing
Instagram is a great way to share your organisation's stories via pictures. The easy to use filters make your snaps look like a pro's taken them, and you can interact with your followers instantly.
Improve how you use Instagram with these simple to follow steps and the good news is you'll only need 5 minutes a day.  You can download the tips as a PDF in the Instragram 5 Minute Daily Marketing Plan.
Instagram Marketing Plan Infographic
Share This Infographic
If you'd like to embed this on your website, right click and 'save as' and link back to this page, or copy and paste the code below.

NB. Width has been set to 100% so it will work on most layouts and adjust to the containing element. Actual size is 851px x 3175px if you need to override.
Useful Instagram Marketing Tools
Canva is a popular tool for creating social media graphics
Related Instagram posts
10 Influencer Marketing Strategies You Should Know
How to Run an Influencer Marketing Campaign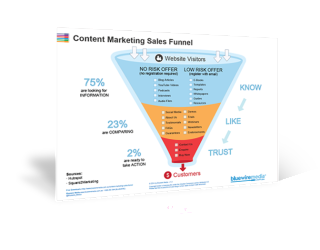 Content Marketing Sales Funnel
Your content marketing sales funnel is all about getting people to know, like and trust you by nurturing them with the right information at the right time.