How to do a 1-2 minute LinkedIn video [#25]
Updated on May 5th, 2019
[Saxons, Perth CBD, Western Australia]
Here is a simple 6 part framework for doing short 1-2 minute videos for LinkedIn.
Part 1: Introduce yourself
Part 2: Have a hook
Part 3: Plant a seed (ie. what you do)
Part 4: Teach:
Part 5: Call to Action CTA
Part 6: Sign off
Tools:
VIDEO
TRANSCRIPT:
G'day, it's Adam Franklin. I'm just showing the class here in Perth what we do on these videos. I have a selfie stick, the clip-on mic that you can see there and, really, what I think about in terms of how I deliver the content as a basic structure. I try to aim for one to two minutes, and there's one or two teaching points that I'd like to make.
Normally there's a hook, so I'll say, "Have you ever thought about what to say on these videos that you do sort of on the go?" If you are wondering how I do that, well I follow a framework. The first thing is, firstly, introduce yourself. Secondly, think of a hook or a question that you're often asked. Third is do some teaching, which I'm doing now. Fourth is have a call to action or something to offer. In my LinkedIn videos, I like to offer a PDF giveaway. Other times, I might like to just say, "Leave a comment if you've got any further questions."
Then, fifth, have a sign off. That is a basic video structure which I follow roughly, not always perfect. I've got a framework in my head, five to six things that I need to cover off, and then when I do that, the video works out to be about 90 seconds which is what we've got to now. Wave goodbye everybody.
All right, see you later.
100 videos in 100 days. Want more?
This is part of my 100 videos in 100 days challenge.
For all my videos, join my Facebook page
For more videos and tip, let's connect on LinkedIn:
Or subscribe via my website and download my popular Web Strategy Planning Template.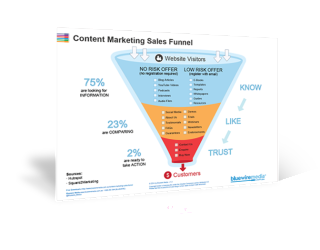 Content Marketing Sales Funnel
Your content marketing sales funnel is all about getting people to know, like and trust you by nurturing them with the right information at the right time.