Why Email Punches 100x Above Social Media
Updated on November 25th, 2019
Email punches 100x above social media
Let me share a shocking secret..! I've always been a fan of email marketing over social media like Facebook, Twitter and LinkedIn.
[I actually consider email the original form of social media, since it's personal, social, can go viral, but let's treat them separately for now.]
Whilst social media steals all the headlines, email marketing is the secret ingredient of content marketers.
Email punches way above its weight. Here's why.
Why do I love email marketing?
1. It's more personal and intimate.  It's a bigger commitment to submit your name and email address and grant access to your inbox, compared to clicking Like or Follow once.
2. It's more permanent. It gets delivered to an Inbox and stays there (compared to a tweet where your followers need to be watching their newsfeed to see it).
3. Everyone has email.  Despite their impressive numbers, not everyone is on Facebook, LinkedIn or Twitter.
4. It's business orientated.   People sit at work with their email open all day, whereas they only dip into social media occasionally.
5. It sells. People are comfortable pulling out their credit card and buying stuff off an email.
That's why I say email punches 100x above social media!
Chris Brogan case study
This is a snippet from Chris Brogan's blog post 7 Sales Secrets From My Best Sales Day Ever.
I stopped trusting my beliefs and started trust metrics. (Rob Hatch is forcing this on me more and more.) As much as I like Twitter, it's not selling for me. My newsletter (my pride and joy!) sells 10x more by volume than my entire social platform combined, even though it's 10x smaller by subscriber count.
Let's break that down, for Chris, email is 100x more effective than 'social media'.
Chris's social media following (approximately 200,000+ people) generated X number of sales.
Chris's email list (approximately 29,000+ people) generated 10X more sales.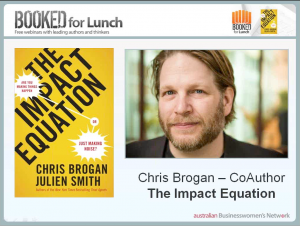 During Chris's webinar with Suzi Dafnis, he said that one email subscriber was worth 10-20 social media followers for him.  This was just a rough estimate based on his gut feeling.
Based on these new metrics, in reality it is more like 1 email subscriber is worth 100 social media followers.
To be fair, I'd argue that most of Chris's 29,000 email subscribers also follow Chris on social media. It's just that these 29,000 people are Chris's biggest fans.
These 29,000 biggest fans may well have heard about the course he was offering (Mastering The Digital Channel) via social media, but they were activated into taking action when they got the email.
Mastering the Digital Channel
If you are keen to check out Chris's best selling program, Mastering The Digital Channel, it is currently selling for $697 on his website.
Learn from the man who has done it and who is generously sharing his secrets. I've been a fan for a long time, and his stuff works!
Or get to know him via his Chris Brogan blog, twitter @chrisbrogan or his Google+.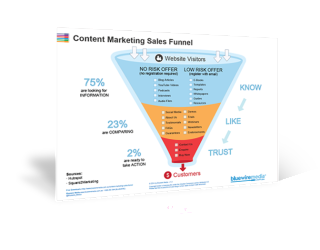 Content Marketing Sales Funnel
Your content marketing sales funnel is all about getting people to know, like and trust you by nurturing them with the right information at the right time.