15 Recruitment Web Tools making it easier, cheaper and faster
Updated on November 26th, 2019
Recruitment Web Tools
It's no secret that the web is disrupting all sorts of industries. Recruitment is no exception so I wanted to follow up on the previous blog post (89 web tools for everyday business) with a post really focussed on recruiting and retaining the best team.
There's none better to talk about recruiting on the web than Mike Overell, CEO and Founder of RecruitLoop.  We met surfing and when he told me about what he was doing with his start up, I was keen to hear more. He lives and breathes online recruitment and agreed to share 15 web tools that can help any business recruit.
Enter Mike Overell…
Every business needs new staff at some point. But recruiting them can be expensive or painful. Both if you're unlucky.
There's good news for employers: The internet is 'democratising' the recruitment process.
Tools that were once a trade secret of expensive recruitment agencies are now available to anyone online – at a low cost, and often free! The trick for most businesses is knowing what's available, and where to start. This list should help.
First, consider the traditional options.
Employers typically take one of 2 approaches when recruiting new staff:
1. Throw an ad on Seek ("post then pray").
2. Use a traditional recruitment agency ("pay then pray")
If you've tried either, you'll know the drill. You always pay: whether in cash money or time. And there's generally an element of prayer. Both can be deeply unsatisfactory.
Now, let's consider the full recruitment cycle, simplified into 3 key phases: sourcing, selection, and finally retention. Here are 15 online tools that can make recruitment cheaper, easier and faster for any business.
Recruitment Web Tools for SOURCING
The job board isn't quite dead. For many roles it's still the primary source of hire. But smart employers no longer just post and pray. They actively source candidates through a range of other channels.
1. LinkedIn
LinkedIn is the obvious alternative to job boards, but many employers are still confused about where to start (here are 5 tips for beginners). You can search candidates, post job ads, join groups, and promote your organisation. Long the domain of professional recruiters (who provide half of LinkedIn's revenue), companies are now wising up to the potential themselves.
An example? Deloitte have cut $6M from their annual recruitment bill through more active sourcing on LinkedIn.
2. Facebook
Facebook is approached with a mix of enthusiasm and cynicism when it comes to recruitment. Whatever you think, you can't ignore it. Creative employers can now target job ads to specific types of users like a laser. Looking for a marketing manager, with an interest in indie music, based in Sydney's eastern suburbs? Facebook can help.
Also checkout professional networking plugins like Branchout and BeKnown.
3. Video
Video is a great way to attract candidates by building a profile, and sharing your personality. Get creative. Two of our favourite recruitment examples:
Don't forget a call to action! You can easily insert a LinkedIn 'Apply Now' button on your blog. Potential candidates can register interest with a single click.
4. Meetups
(www.meetup.com)
What's your ideal candidate passionate about? What's their area of specialty? Meetups are taking off globally, allowing people with similar interests to get together in person. Yep! TRW (the real world).
Here's a secret no recruiter would share with you. You're looking for a Ruby on Rails specialist? There's a meetup for that. Why not go along, introduce yourself, and meet potential candidates in person? A few hours at a meetup could save you $20,000, which is what a specialist recruiter would charge when they find you a candidate this way.
5. Forums
This is an online version of a meetup. There's a forum for almost any industry or niche. You'll see people displaying their knowledge, expertise, and even complaints or frustrations about their current employer.
Examples:
– Whirlpool – internet and technology
– Mumbrella – marketing and digital
Recruitment Web Tools for SELECTION
Now you've got a shortlist of candidates. How do you select the best one?! Don't ignore the traditional interview. But these other online tools can make your interviews more efficient and targeted.
6. Video interviews
Anyone who has interviewed more than a handful of candidates in person will have experienced 'the dud'. Within 5 minutes you know they're clearly not right for the role, but you continue the interview to avoid appearing rude. Video interviews can solve this problem, whether:
– Live interview – eg through Skype
– Recorded interviews – Automated video interviews, with candidates recording their blind responses to questions via webcam. (This is a tool we offer at RecruitLoop).
7. Psychometric testing
Learn about behavioural, leadership or decision-making traits before hiring anyone. Psychometric testing used to be expensive, but affordable online options include:
– Rightpeople
– Peoplogica
– Omnia
Note: a psychometric test should only be one data point to your hiring decision and certainly not the decision-making tool. Make sure your provider gives you a solid and pragmatic interpretation in a report from a qualified psychologist.
8. Skills testing
Got a role with technical requirements? You'd want to be sure your candidate is up to the task. You might even want to test a candidate before deciding whether to interview.
Examples:
– CodeEval or Codility – Technical roles
– OneTest – Admin/clerical
9. Reference / background checking
We recommend 2 reference checks before making any hire. But it's a thankless task, sometimes suited to outsourcing.
Examples:
– Verify
– The PRM Group – candidates can apply for their police check on line
10. Social media checking
This is a controversial, but growing area (see: Should employers check Facebook before making a hire). At one extreme, some web-savvy employers ask candidates to only submit their online social profiles when applying for a job. Used with caution, a candidate's online presence can tell you a lot about their personality and cultural fit.
Recruitment Web Tools for RETENTION
Awesome! You've made the hire. Now the most important part is keeping them satisfied, engaged and productive. Employee retention is one of the biggest 'white space' opportunities for companies to save time and effort.
11. Employee Attachment
Did you know that during the first 120 days of your new recruit's employment, they will actively assess whether they have made the right decision to join your organisation? The cost of poor attachment is beyond the cost of recruitment.
The direct and indirect costs can add up to over $100,000 over the first three months for a new employee.
Our friend Anthony Sork has patented a survey measure to test exactly this. Used properly, it gives employers an opportunity to intervene before losing a new team member.
12. Ongoing engagement
Measuring ongoing employee engagement used to require expensive consultants and surveys. We've been watching an Australian startup with interest – CultureAmp – which makes engagement surveys more accessible, affordable and actionable.
13. Performance tracking
Performance management is a critical process but one that unfortunately most companies ignore. It's also a process often run poorly, giving staff the impression that the organisation doesn't care about or invest in their performance and professional development.
Two fantastic local startups are making performance management easy and (dare I say) fun!
– Sonar6  
– Small Improvements
14. Recognition
Often a hard area to get right, both individual and team recognition can have a huge impact on productivity and morale. Check out Sydney-based startup:
– Wooboard
15. Internal collaboration
Get your team talking! Break down the silos and bring social into the enterprise. A great tool in this space includes:
– Yammer
THE REALITY CHECK
I should report an unfortunate truth: none of these tools is a magic wand. Recruitment is a mission critical process, requiring real effort, resources and focus. Then throw in some human touch and old-fashioned gut feel for good measure. But the good news is that every company can now access tools that agencies once used to justify fees in the tens of thousands of dollars.
The internet now makes it possible for any company to recruit like a Google (or any recruitment agency) as long as you're willing to dedicate the effort into doing it properly.
[If you're interested in finding out more about Michael or RecruitLoop, you can find them on Twitter @mboverell or @recuitloop]
BLUEWIRE MARKETING METHODOLOGY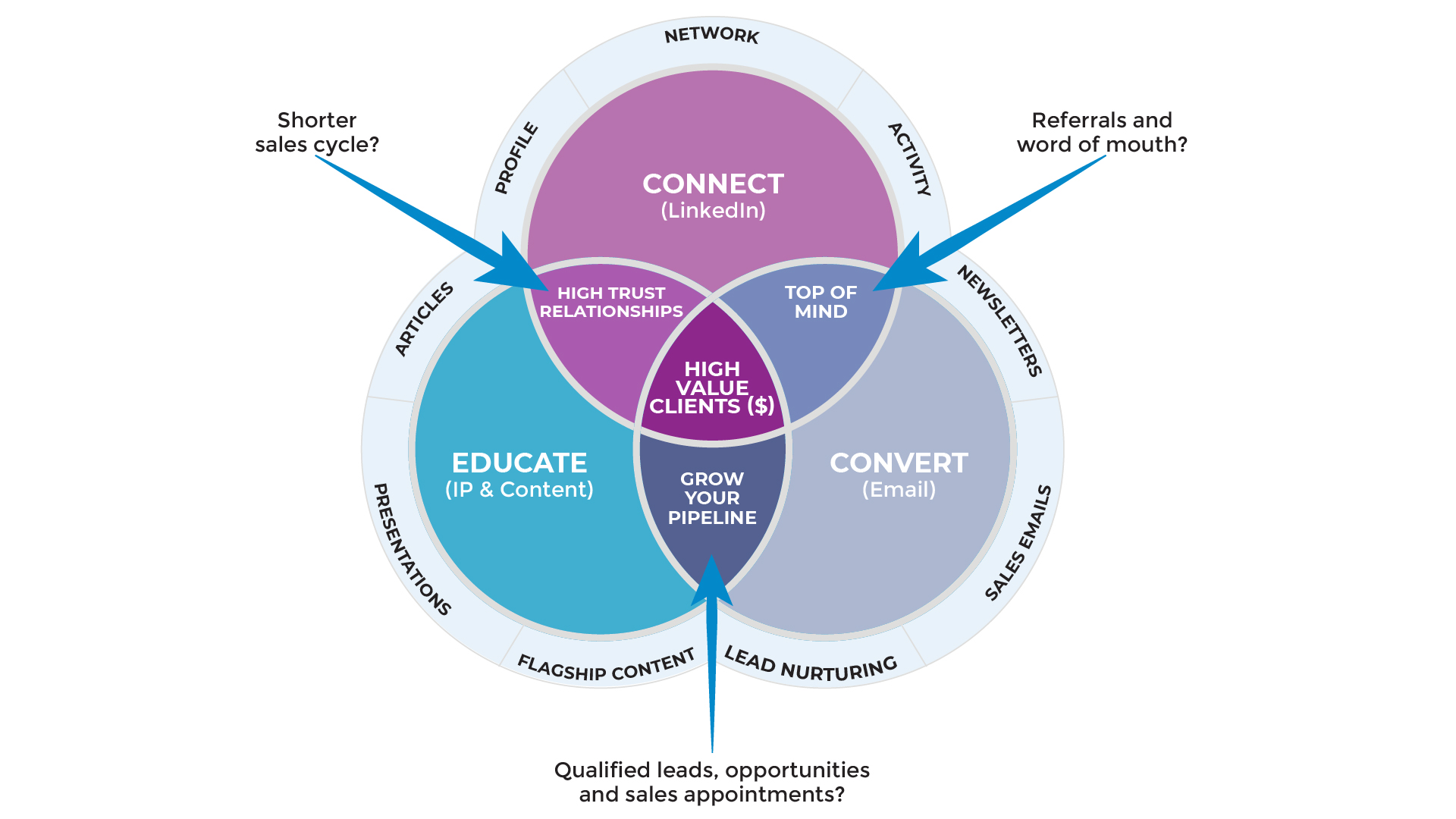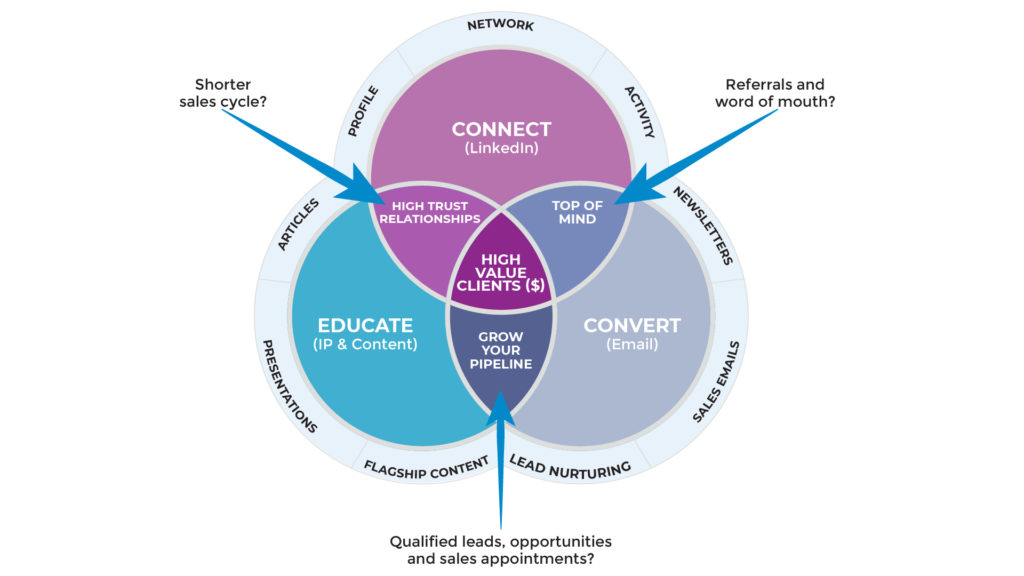 PS. When you're ready, here are 6 ways we help
consultants & advisors

grow:

1. Web Strategy Planning Template (PDF). Our flagship 1-page tool we co-created with David Meerman Scott. It's been downloaded over 1 million times and featured on Forbes.

2. Read a free chapter from our book. Web Marketing That Works --- an Amazon #1 best seller.

3. Join the private group on Facebook. Access free training resources, and hang out with 2,300+ peers.

4. Discover your marketing score. Take the 40 point Marketing Scorecard (in < 6mins) and get a customised report.

5. DIY for $7. Get the Complete 50+ Script Library for connecting with people to winning clients.

6. Let's brainstorm how to fill your marketing funnel.

DM the word "INTERESTED"

via Messenger

 or 

book a 20 min slot to talk

 on Zoom.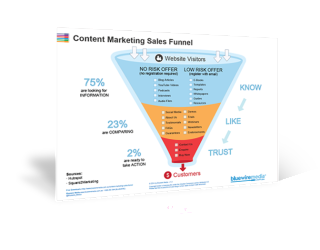 Content Marketing Sales Funnel
Your content marketing sales funnel is all about getting people to know, like and trust you by nurturing them with the right information at the right time.