7 Web Marketing Tips for New Small Business Owners

Will Bernard is a marketing strategist who shares tips related to small business growth, online marketing, and sales.
Small business owners have a variety of marketing options at their disposal, including such tried and true techniques as business flyers, TV or radio spots, even billboards. It's the 21st century, though, and if you're not exploring the broad world of web marketing, you're missing out. Oftentimes the costs are minimal compared to the potential returns, and in many instances you can market your business on the Internet virtually free of charge. If you're not sure how to take full advantage of this powerful tool, read on.
Add a Blog to Your Website
If you don't already have a blog on your website, start one. It's a great way to showcase your industry expertise and knowledge. Get on a posting schedule you're comfortable with, but never post an article just for the sake of doing so. If all you have time to complete is one well-crafted article per week, leave it at that. Post information that's of interest to your readers, hopefully featuring facts and points of view they can't find anywhere else.
Use Social Media
Create accounts on Facebook and Twitter and cross-post your blog articles there. Account setup is typically simple, just make sure you include your company's basic info and play up what sets it apart from the competition. After those two websites are covered, try investigating other popular social media portals such as Pinterest. LinkedIn is particularly well-suited for B2B operations.
Commit to High Quality Content
To begin with, make sure your articles are grammatically correct. Don't just rely on spell check – read through each one to scan for any errors, and hire an editor if you have the funds. Be concise in whatever you write – if there's a way to say something using eight words instead of ten, do so. Fact-check anything you're not 100% sure is accurate.
Use Small Business Directories
Online business directories represent another way to leverage web marketing for your small business. There's Google Places, Yahoo Local, Manta, Yelp, MerchantCircle, and more. The majority of these websites offer basic listings for free. However, you will have to deal with follow-up phone calls from reps wanting you to upgrade to a paid account – and it may very well be worthwhile, if you have the capital.
Check the Competition
If you need some fresh ideas for your web marketing strategy, check your competitors. You might find a compelling website design or an interesting Facebook strategy that you can reinterpret for your own business.
Use Videos
Video is a great medium for further promoting your business online, particularly on YouTube. According to SEOmoz, posts with videos generate three times more inbound links than those without. They can be posted on Instagram, your own website, Vine, SnapChat, and even LinkedIn now lets you include videos. These could be how-to instructionals for a product, testimonials from customers, or even a video of yourself discussing the things that differentiate your small business from the pack.
Get Involved With Other Blogs
Once your blog is set up, start commenting on other blogs in your industry and include a mention of your own website in your comments. Request opportunities to guest-post articles on these blogs, too. Although it might seem counterintuitive, partnering with some of your competitors by posting content on their websites is a great way to get the word out about your business and improve your online reputation.
If you're unsure of the potential of web marketing, make no mistake, your competitors are not. The constant presence of the Internet in the everyday lives of your consumers and target market is simply too huge an opportunity to ignore. Jumpstart your web marketing campaign today and you might be surprised at how quickly your operation grows.
Have you gotten involved with web marketing yet?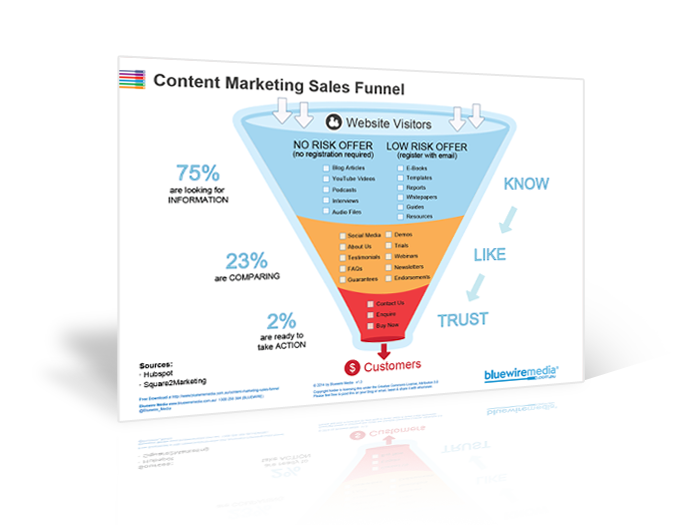 Content Marketing Sales Funnel
Your content marketing sales funnel is all about getting people to know, like and trust you by nurturing them with the right information at the right time.