How to Optimize Informational Content for Search Intent
Updated on June 24th, 2021
There's a lot to be said about the benefits of a well-planned content marketing strategy. Not only can it drive brand awareness, but it also plays a vital role in lead generation and building authority. Plus, it's a powerful tool for nurturing potential customers into loyal supporters of your company.
Keyword research, SEO, and distribution all play crucial roles in getting eyes on your content. But before any of that, there's something much more important you need to account for: search intent.
Defining Search Intent
The best way to define search intent (aka. user intent or audience intent) is to look at it from the point of view of your potential customers.
In the simplest of terms, search intent refers to the goal internet users have when making a search engine query.
On the whole, there are three types of search intent, including:
Navigational – The user wants to find a specific destination (i.e., typing a brand name into Google to go to the brand's website).
Informational – The user is searching for an answer to a question (i.e., "how to boil an egg").
Transactional – The user wants to complete a transaction (at the moment or in the future). That might be buying a product, signing up for a newsletter, or downloading an app (i.e., "hiking shoes for wide feet")
Intent is so crucial because in order to perform well, content must be relevant to the reader's aim.
Simply put, an article (or video or infographic) must be valuable to the consumer if it is to benefit the brand. Otherwise, the production process was nothing but a waste of resources.
The Benefits of Nailing User Intent
There are two perspectives to consider when examining the benefits of getting search intent right.
To a consumer, finding a relevant answer to their inquiry means saving time and discovering a trustworthy source of information. However, a brand stands to gain much more. That is, articles that are well-optimized for audience intent get:
Wider reach
Higher clickthrough rates
Lower bounce rates
Longer dwell time
Increased conversions
Effective branding through building trust & authority
When combined, all of these work together to improve your brand's positioning on SERPs, allow you to get more customers, and increase the ROI for your content marketing strategy.
Figuring out User Intent
All in all, producing content that satisfies consumer needs equals benefits to both parties.
But how do you know if you're optimizing for the right consumer goals?
Well, that's relatively easy to find out. If you're in any way unsure of the best way to cover your chosen targeted keyword, all you have to do is perform a quick search engine inquiry for said keyword. The top results you get are the ones that answer search intent the best (according to Google's ranking algorithm).
For example, let's say you're a brand specializing in selling artisan coffee and brewing equipment.
If you wanted to write a blog post or film a video to target the keyword 'french press,' you'd likely be facing a dilemma: Should you create a top-10 list of the best coffee makers of this sort? Or should you explain the best technique for brewing coffee with this piece of equipment?
A quick Google search would show you that the correct answer would be to write about the technique. That is, to optimize for informational intent. The majority of the top results (the ones with the most clicks and lowest bounce rates) cover this subject.
Alternatively, if you wanted to optimize for commercial search intent (reach people looking to purchase a coffee maker), the best thing you could do would be to adjust your target keyword. Google's free Keyword Planner tool suggests terms like 'best french press,' 'french press coffee machine,' 'cafetiere,' 'coffee press,' or 'coffee plunger.'
So, as you can see, identifying the best type of intent to target isn't that difficult. Nonetheless, it's not all you need to do to get the most out of your content marketing strategy.
Optimizing for Informational Intent
Targeting the right keywords and offering the relevant information are both great starts when trying to optimize for informational intent. But that's just the tip of the iceberg.
To get spectacular results, you'll need to do a bit more to grab (and hold onto) your audience's attention.
1. Write Great Article Titles
There are a few things you must understand about optimizing content for informational intent:
There's an ongoing rapid increase in the number of informational posts being published daily.
Most people won't go further than the top 5 organic results on SERPs.
Consumer's attention spans are getting shorter every year.
All of this indicates that the main thing you need to do to boost website traffic with informational articles is grab your audience's attention on search engine result pages. And article titles play a crucial role in that.
2. Choose the Right Format
Another effective way to make your blog posts benefit you is to choose a format that's likely to work with the targeted search term.
Think about the types of informational intent queries your audience will make. If they're after insights and instructions, they're likely to ask questions and use terms like 'how to,' or 'guide.' They will also want to get to the point as soon as possible (to ensure they're on the right page) and then go into detail.
With this in mind, you should do your best to choose a layout that will answer their needs as quickly as possible.
If you check out this informational blog post by Transparent Labs, you'll see how effectively it uses formatting to guide users through the answer. The H2 headings are convenient (and use relevant keywords) for those who prefer to scan text instead of reading it. And the images back up key points in the resource.
However, it is also worth noting that the brand misses an opportunity to grab attention with the initial paragraph. A good fix would be to get to the point more quickly, especially as most people on weight loss journeys already understand the concept of cheat days and don't need a definition.
3. Make Use of Summaries
You know that web users have short attention spans and very little patience for time-wasters. So, to maximally optimize your informational content for search intent, you might want to look for ways to set and manage expectations.
For one, make sure that your article introduction is punchy and has a killer hook. Present the problem you're covering in relatable terms, ask your readers a question, or give statistical insights to describe why your topic matters.
You'll also benefit from a subtitle, as well as a stunning visual, both of which Newsweek nails in its Best Mattress Guide.
image source: newsweek.com
Secondly, consider adding a quick overview or table of contents (complete with jump links) somewhere towards the beginning of your article.
This type of preview doesn't just make page navigation easier. It also offers a fast glimpse into your post for users unprepared to scan through thousands of words to get the information they need.
Furthermore, a correctly formatted table of contents can contribute towards your winning position zero on Google, offering you the possibility of enjoying clickthrough rates above 40%.
4. Improve Website User Experience
Generally, it should go without saying that your website must provide an exceptional UX if it is going to perform well with consumers and search engines.
But, in addition to boosting page load speeds and employing a mobile-first design, you can also do a lot with simple text editing.
For example, by choosing the right typography (font, text color, and size), you can make sure that your blog posts are accessible and easy to consume. Moreover, by paying attention to your text's readability score, you can further serve search intent.
As a rule of thumb, it's a good idea to skip dense blocks of text and the use of complicated or archaic language. Instead, make your articles accessible to all your readers, regardless of their age, education, or native language.
Use lists and bullet points, and consider highlighting key pieces of information, either using bolded text or formatting it in an attention-grabbing way. Finally, don't forget to include engaging multimedia assets that'll enrich the overall user experience.
For example, this New York Times guide on how to start running does all of these things. It provides readers with an easy-to-consume insightful article, which is why it wins the Google featured snippet.
image source: newyorktimes.com
5. Review (and Fix) Existing Informational Content
OK, now you know everything you need to do to match informational intent when producing fresh content for your company blog. But what about the posts you've already published?
Well, there's a solution for that: reviewing and editing.
If you're prepared to do some hard work and possibly overhaul (or rewrite) content, you'll get impressive results from the content you've put time and money into.
An excellent way to optimize informational content for search intent is to look at your preferred analytics software and find the articles that underperform. Then, you can take a critical approach and see whether they answer user needs. Check whether the search intent you've written for matches the one that performs well on SERPs, and see if there's anything you can do to improve the article's layout, formatting, and SEO optimization.
Don't worry if you find the results underwhelming. Even an article that messes up search intent holds the potential of getting to the top 5 positions on Google (with a bit of tweaking, of course).
For example, take a look at this post by Fantasy Jocks. You'll quickly see that the biggest mistake it makes is that it's trying to answer two different search intents in the same article: 1) fantasy football rules and 2) improving your fantasy football league.
Fortunately, however, it's relatively easy to fix. All that needs to be done is to do a rewrite, covering the basic rules for people just getting into fantasy football. Then, the author can create a brand new post, targeting the keyword 'fantasy football settings,' and they can reuse some of the (now superfluous) content, knowing that they're giving readers exactly what they wanted.
Wrap Up
As you can see, optimizing informational content for search intent isn't difficult at all. In fact, it could be said that it's relatively simple. All you need to do is follow these five steps, and you'll see great results.
Of course, whether you're producing fresh content or improving posts you've already published, try to stick to the elementary rule of matching search intent: give your audience exactly what they came for – nothing more and nothing less.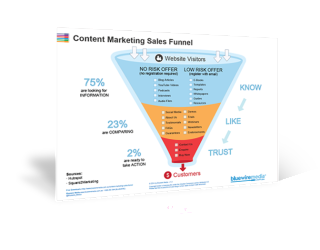 Content Marketing Sales Funnel
Your content marketing sales funnel is all about getting people to know, like and trust you by nurturing them with the right information at the right time.